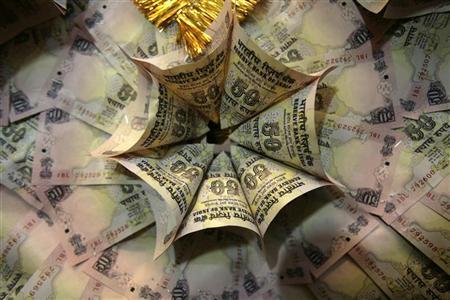 MUMBAI (Reuters) - The rupee fell on Thursday from the three-week highs hit in the previous session on caution ahead of the Federal Reserve meeting and as oil firms and the government were seen stepping up their dollar purchases.
Many investors are hopeful the Federal Reserve will unveil a new "QE3" asset purchase programme when it announces its policy decision at 22:00 IST (1630 GMT), an event that could hit the dollar and boost risk currencies.
Traders are also eyeing a special government cabinet meeting later in the day in which a hike in heavily subsidised fuel prices may be discussed, while the regular weekly cabinet on Friday is due to discuss opening up the aviation sector for foreign direct investment.
Policy reforms are seen as critical to avoid credit downgrades that would push India into sub-investment ratings, and would help the government stick to its fiscal targets.
"There was some government payments, and some oil buying was also seen. Together it likely amounted to around $1 billion demand which hurt the rupee," said S. B. Singh, chief dealer for foreign exchange at state-run Bank of India.
"The outlook now depends on the outcome of the Fed meeting," he added. "But I expect the rupee to weaken a bit from here towards 55.60-80 levels," he added.
The partially convertible rupee closed at 55.43/44 per dollar from its close of 55.21/22 on Wednesday and off the three-week high of 55.14 in the previous session.
Traders said some large state-run banks were major buyers of dollars in the market, with traders saying they believed the government was behind the trades as it sought to make payments towards defence purchases.
Oil companies, the largest buyers of dollars in the domestic currency market, were also on the buying side, dealers added.
On top of the wait for the Fed and fiscal reforms, traders are also focusing on August inflation data due on Friday.
The data will further set the scene ahead of the Reserve Bank of India's policy review on Monday.
In the offshore non-deliverable forwards, the one-month contracts were at 55.68 while the three-month was at 56.29.
In the currency futures market, the most-traded near-month dollar/rupee contracts on the National Stock Exchange, the MCX-SX and the United Stock Exchange, all closed at around 55.42 with a total traded volume of $3.6 billion.
(Editing by Rafael Nam)
Updated Date: Sep 13, 2012 23:15 PM