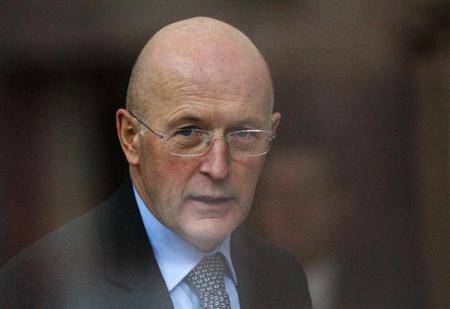 LONDON (Reuters) - Royal Bank of Scotland(RBS.L) chairman Philip Hampton has defended bonuses due to be paid to chief executive Stephen Hester despite the British bank being punished for rigging interest rates.
While RBS, 82-percent owned by the taxpayer, has faced criticism over a deferred bonus of 780,000 pounds Hester is set to receive in March, Hampton told lawmakers on Monday that Hester's pay was modest by the industry's standards.
Addressing the Parliamentary Commission on Banking Standards, Hampton said Hester's pay was "well below the average in world banking. Relative to other people doing these jobs his pay has been modest".
Hester receives a basic salary of 1.2 million pounds. While he chose to give up his bonus last year after a computer systems meltdown affected millions of customers, he was set to receive the share-based payment deferred from three years ago.
Some lawmakers have said Hester should not accept the payment after RBS was fined $612 million by British and U.S. authorities last week for its role in a global interest rate-rigging scandal.
More than a dozen banks and brokerages, including Citigroup(C.N), Deutsche Bank(DBKGn.DE) and JP Morgan Chase (JPM.N), are being investigated by regulators over manipulation of benchmark interest rates such as the London interbank offered rate (Libor) and Euribor, which are used to price trillions of dollars' worth of loans.
The head of RBS's investment bank told the commission that RBS management had failed to spot the wrongdoing because they were focused on keeping the bank alive.
"When we took control of the bank it had a cardiac arrest. We had to prioritise dealing with the existential threat to the bank," John Hourican, who is leaving RBS in the wake of the Libor interest rate scandal, told the panel.
Hourican said it was important the bank learnt its lessons from the affair. "I have told people who are prepared to listen that they should not waste my death."
Peter Nielsen, head of RBS's markets division, said the bank was unlikely to have made money out of manipulating Libor, adding it had been slow to respond to the wrongdoing.
He said he had discussed resigning with Hourican in the wake of the affair, but decided to stay on.
Hourican said he had told Hester that Nielsen should stay, arguing: "The bank is better served by Peter remaining at RBS".
The commission also interviewed Johnny Cameron, who ran RBS's investment bank under former CEO Fred Goodwin. Cameron said while the bank had tried to impose ethical values on its traders, it could not control their behaviour.
"You cannot impose moral standards on those that do not wish to be moral," he said, adding Libor manipulation had not been seen as a potential danger for banks. "It just did not occur to anyone that this was a rate that could be fiddled."
Hester told the commission there had been significant failings in RBS's control processes. He said there were "three or four ringleaders" among the 21 people identified in regulatory documents relating to the issue.
(Editing by Dan Lalor)
Updated Date: Feb 12, 2013 01:15 AM