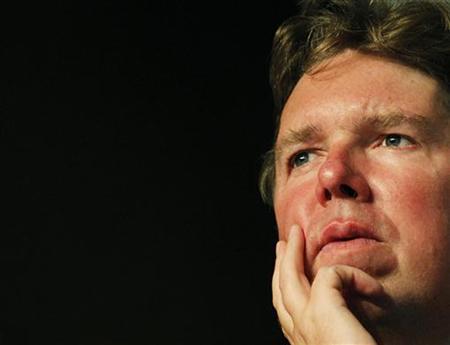 LONDON (Reuters) - Bank of England deputy governor Paul Tucker has spent his entire career at the central bank, almost all of it liaising with financial markets - but now the rate-fixing scandal engulfing British banks risks thwarting his ambition to get the top job.
Beneath a slightly rumpled exterior that led one columnist to describe him as a "cerebral Winnie the Pooh", there is a confident, almost patrician manner twinned with a grasp of the markets that has won him many fans around the City of London.
However popularity with the City may prove a hindrance, not a help, as the ambitious 54-year-old tries to succeed BoE Governor Mervyn King, who retires next year, against a backdrop of public contempt for much of Britain's financial sector.
On Monday, he appeared before a parliamentary committee to explain a 2008 conversation with former Barclays chief executive Bob Diamond which critics say raised questions about his judgement. Barclays was fined last week for lying about its borrowing costs to compilers of the Libor benchmark rate and Diamond told the same committee that Tucker had told him senior British officials thought Barclays' estimates were high.
Tucker said he regretted not having a note of the discussion but denied prompting Barclays to submit lower funding costs.
Tucker is a man who has stayed out of the limelight, and has spent much of his time at the BoE in King's shadow - to the extent that Labour finance minister Alistair Darling chided King in 2008 for giving his deputy too little responsibility.
The ultimate central bank insider is little known to the wider public, gives few media interviews and largely confines his appearances to dense regulatory speeches or mandatory news conferences and hearings where King has centre stage.
The closest he previously came to scandal was in 2003 when tabloid newspapers reported a dispute with a potential buyer of his high-end apartment in a 19th-century former school building, a couple of miles from the BoE in a gentrifying area of London.
AMBITIOUS
However, within London's financial community Tucker is known for a level of ambition that made Citi economist Michael Saunders say as long ago as 2008 that "he's had future governor stamped on his forehead for the last 20 years".
Tucker also has an impressive grasp of detail, and an unusual ability to win over both academics and bankers, said Richard Barwell, a former colleague at the BoE who is now an economist at Royal Bank of Scotland.
"He is a hugely capable and driven individual," Barwell said. "He's famous for working all hours."
Asked at a parliamentary hearing in 2005 if he worked a five-day week, Tucker joked that "five is an aspiration".
Whereas some senior BoE officials list family or hobbies on the central bank's web site, Tucker keeps his private life resolutely private, and those who know him professionally have little idea of how he spends any downtime.
Much of his time outside the office over the years has been spent building up contacts in the City of London, where he is seen as more accessible than King.
But Tucker is not an uncritical cheerleader for Britain's financial industry, and has called for a new "social contract" so banks no longer rely on state bailouts.
Apart from a brief secondment at the blue-blooded Barings investment bank in the 1980s - when Tucker described his panic at having to work out how to value a takeover target overnight - his career has been a steady climb up the financial markets side of the BoE.
In 2009 Tucker was promoted to deputy governor responsible for financial stability, and last year he earned a salary of 258,809 pounds plus a very generous pension.
Tucker joined the BoE in 1980, straight after studying maths and philosophy at Cambridge, and unlike King has no academic economics training.
But he has a good practical knowledge of monetary policy. He prepared minutes of Monetary Policy Committee meetings between 1997 and 2002, and has since served on the MPC himself, first as executive director for markets, and then as deputy governor.
He has a slightly more hawkish voting record than King, but if he survives grilling before lawmakers on Monday, he will be the candidate who represents continuity rather than change.
(Reporting by David Milliken Editing by Jeremy Gaunt and Peter Graff)
Updated Date: Jul 09, 2012 23:01 PM