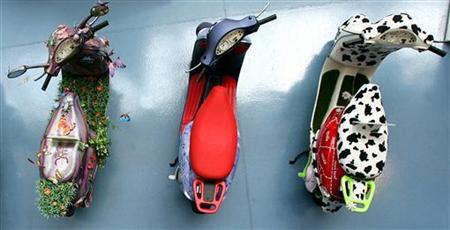 MILAN (Reuters) - Piaggio(PIA.MI), the Italian maker of Vespa scooters that has seen sales flag in its mature markets in Italy and Spain, said the launch of its three-wheeled Ape City Passenger in India should lift sales volume from the fourth quarter.
The city passenger sector accounted for 80 percent of the broader Indian three-wheel market in 2011 with over 415,000 units sold, Piaggio said on Friday, adding its market share was around 36 percent in August.
Separately, Moody's Investor Service said it may cut the Ba2 rating on Piaggio's 150 million euros of senior unsecured notes because of a double-digit drop in demand for two-wheeled vehicles in Italy and Spain.
Moody's said Piaggio had "modest headroom" left to absorb any further loss in revenues, adding that growth in Asia was unlikely to compensate for a decline in its mature markets.
Piaggio reported a 7.9 percent drop in first-half revenue, as sales of scooters fell 16 percent in Europe.
(Reporting by Oleg Vukmanovic; Editing by Dan Lalor)
Updated Date: Sep 14, 2012 23:30 PM