Pakistan information minister removed over newspaper leak that angered army | Reuters
By Asad Hashim and Sheree Sardar | ISLAMABAD ISLAMABAD Pakistani Information Minister Pervaiz Rashid has been removed from office over a newspaper leak that sparked a rift between the army and the government earlier this month, the prime minister's office said on Saturday.Two sources from the Information Ministry told Reuters that Rashid had stepped down from his post until an inquiry confirms whether he was the source for a newspaper article detailing the discussion in a top-level national security meeting.'Evidence available so far points to a lapse on part of the Information Minister, who has been directed to step down from office to enable holding of an independent and detailed inquiry,' a statement by the prime minister's office said.The inquiry is seeking to identify the source of the Dawn article, published on Oct. 6, which gave an account of a tense, high-level security meeting held between military and government officials.Government and diplomatic sources say the Dawn article soured relations between Sharif's ruling PML-N party and the military, with army officials blaming PML-N for the leak and demanding the source be punished
By Asad Hashim and Sheree Sardar
| ISLAMABAD
ISLAMABAD Pakistani Information Minister Pervaiz Rashid has been removed from office over a newspaper leak that sparked a rift between the army and the government earlier this month, the prime minister's office said on Saturday.Two sources from the Information Ministry told Reuters that Rashid had stepped down from his post until an inquiry confirms whether he was the source for a newspaper article detailing the discussion in a top-level national security meeting."Evidence available so far points to a lapse on part of the Information Minister, who has been directed to step down from office to enable holding of an independent and detailed inquiry," a statement by the prime minister's office said.The inquiry is seeking to identify the source of the Dawn article, published on Oct. 6, which gave an account of a tense, high-level security meeting held between military and government officials.Government and diplomatic sources say the Dawn article soured relations between Sharif's ruling PML-N party and the military, with army officials blaming PML-N for the leak and demanding the source be punished.
Relations between the civilian government and military have often been strained in a country where several prime ministers, including Sharif himself, have been ousted in coups. Quoting anonymous sources, the Dawn article said civilian government officials called for the military not to interfere if civilian authorities tried to arrest members of anti-India militant groups such as Jaish-e-Mohammad and Lashkar-e-Taiba.India has long accused Pakistan's military of sponsoring these groups to foment unrest in Indian-administered Kashmir and elsewhere, a charge that Pakistan denies.
The office of Prime Minister Nawaz Sharif has repeatedly rejected the article as inaccurate and the journalist who wrote it was at one point temporarily barred from leaving the country.On Saturday, the prime minister's office said the Oct. 6 story was "planted" and termed it a "breach of national security". Dawn newspaper editors have stood by the story and its author.The committee being set up to investigate the leak includes senior officers from the ISI, the most powerful intelligence agency in Pakistan. Military Intelligence and Intelligence Bureau agencies will be in involved in the committee.
The military on Friday said top PML-N leaders - including finance minister, interior minister, and Sharif's brother - met the army chief Raheel Sharif, who is not related to the prime minister, to discuss the Dawn leak. The head of ISI was also presentRashid did not respond to Reuters requests for comment. The military could not be immediately reached for comment. (Writing by Drazen Jorgic; Editing by Mark Heinrich and Stephen Powell)
This story has not been edited by Firstpost staff and is generated by auto-feed.
India
Admiral Gilday is on a five-day visit to India, in which he met Indian Navy Chief Admiral Karambir Singh to firm up defence ties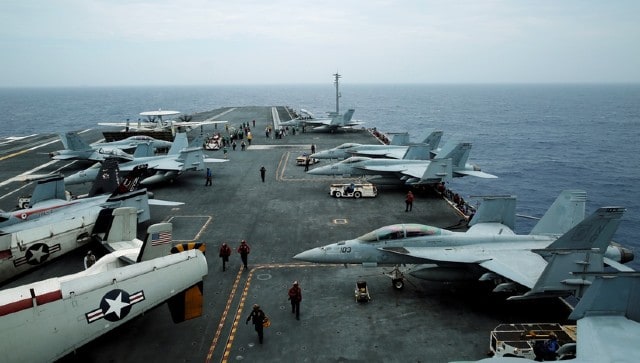 India
Nuclear-powered US aircraft carrier Carl Vinson will be part of the second phase of the high-voltage Malabar exercise from 12-15 October, featuring the navies of all four Quad countries
World
Iran has historically played a big role and proven to be the most capable external actor when it comes to government formation in Iraq