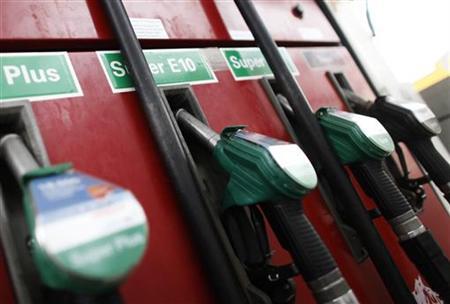 NEW YORK (Reuters) - Crude oil futures rebounded on Wednesday, rising more than 2 percent on hopes of more signals of stimulus for the weakening U.S. economy when minutes of the U.S. Federal Reserve's June meeting are released later in the day.
U.S. government petroleum inventories showed a drawdown last week of 4.7 million barrels, almost four times the forecast in a Reuters poll, but it was overshadowed by larger-than-expected gains in gasoline and distillate stockpiles.
The bulk of the drawdown was on the U.S. West Coast, a region not geographically connected to other petroleum regions, data from the U.S. Energy Information Administration showed, limiting impact on U.S. crude futures prices.
"There may be some optimism on hopes for stimulus for the Federal Reserve, but the market is well supplied and volumes are very low, so I think people are just waiting to see," said Rob Montefusco, trader at Sucden Financial.
By 12:05 p.m. EDT (1605 GMT), Brent crude for August delivery was up $1.90 at $99.87 a barrel, after hitting an intraday high of $100.18.
U.S. crude gained $1.93 at $85.84 a barrel, after hitting a session high of $86.19.
The dollar shifted higher, sending the euro to a fresh two-year low ahead of the much-awaited Fed minutes.
The Fed will release minutes of its June meeting at 2:00 p.m. EDT (1800 GMT) and investors will closely watch for any hints of another round of asset buying in the coming months.
The Fed last week decided to extend a bond maturity-extension program called Operation Twist. But doubts remain as to Twist's effectiveness.
Oil fell more than 2 percent on Tuesday after a strike by Norway's offshore oil workers ended when the government ordered compulsory arbitration, easing fears that North Sea supplies would tighten. Data also showed that China's oil imports fell in June, reinforcing fears of a global economic slowdown hurting fuel demand.
(Additional reporting by Robert Gibbons in New York, Julia Payne and Simon Falush in London, Florence Tan in Singapore; editing by Jim Marshall)
Updated Date: Jul 11, 2012 23:15 PM