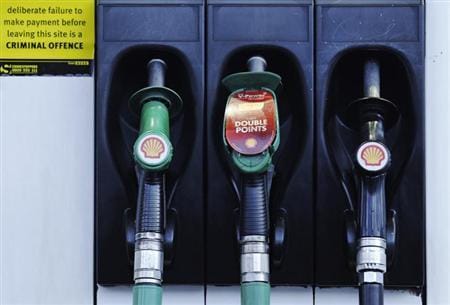 NEW YORK (Reuters) - Brent crude oil futures rose to a nine-month high close to $119 a barrel on Friday after the release of strong Chinese economic and oil import data, and Brent's premium over U.S. crude oil increased.
Chinese crude oil imports rose to the third highest daily rate on record, and overall exports and imports were much stronger than expected, accelerating signs of a rebound in the world's second biggest oil consumer.
Goldman Sachs, one of the most influential banks in commodity markets, said Brent's rally this year is "less driven by supply shocks and instead by improving demand."
"Global oil demand has surprised to the upside in recent months, consistent with the pick-up in economic activity," the bank's analysts said in a research note, which advised clients to maintain a long position in the S&P GSCI Brent Crude Total Return Index.
Brent rose as high as $118.92, the highest since May, and at 11:02 a.m. EST (1602 GMT) was up $1.56 to $118.80, on course for a fourth consecutive week of gains.
U.S. crude added 38 cents to $96.21. Brent's premium over U.S. crude rose to $22.59, extending its recent rise to the highest since December.
Traders were also watching a powerful blizzard in the northeastern United States that could drop up to three feet (nearly one meter) of snow from Friday to Saturday and bring travel to a halt.
Motorists, mindful of the severe fuel disruptions after Hurricane Sandy, rushed to buy gasoline, leading to some shortages in parts of New York City.
U.S. heating oil futures rose by 5 cents to near $3.25 a gallon in anticipation of the winter storm bearing down on the Northeastern United States.
"We're seeing a big move in heating oil ahead of the storm," said Phil Flynn, analyst at Price Futures Group in Chicago.
"The distillate (diesel, heating oil, and jet fuel) supply situation may be helped by all the flights being cancelled and gasoline demand may be lower with people staying home," Flynn added.
China's strong January trade data showed a surge in exports and imports that confirmed the rebound in the world's second-biggest economy
China's crude oil imports in January rose 7.4 percent from a year ago to 5.92 million barrels per day, the third highest daily rate on record, official data showed, as refineries ramped up production ahead of the Lunar New Year.
Oil was also supported by tensions in the Middle East and enduring worries about oil supply from the region.
Iranian supreme leader Ayatollah Ali Khamenei on Thursday rejected a U.S. offer for bilateral talks, compounding concern about the most prominent oil market risk factor.
Currently U.S.-Iran contact is limited to talks between Tehran and a so-called P5+1 group of powers on Iran's disputed nuclear programme that are to resume on February 26 in Kazakhstan.
Supply concerns were exacerbated when attackers blew up Yemen's main oil export pipeline on Friday, halting the flow of crude, an official working for the state-run Safer oil company said.
(Additional reporting by Robert Gibbons and David Sheppard in New York and Peg Mackey in London.; Editing by William Hardy, James Jukwey and Gunna Dickson)
Updated Date: Feb 09, 2013 00:15 AM