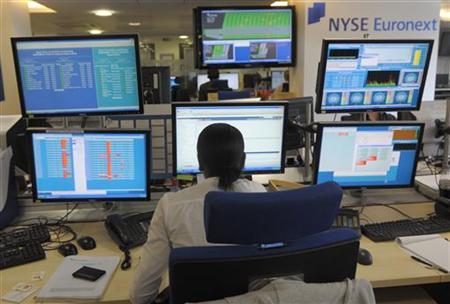 REUTERS - NYSE Euronext (NYX.N) plans to launch a new electronic retail derivatives market in the first quarter of 2013 with products based on commodities, currency pairs, equities and indexes, a top executive at the company said on Monday.
The initial targets for the so called CFD, or 'contract for differences' market, will be retail and professional clients, as well as brokers and liquidity providers, in the United Kingdom and Europe, Garry Jones, head of global derivatives, said in a presentation during NYSE's investor day.
CFDs are tax-efficient technical instruments that enable traders to settle the differences in futures contracts through cash rather than the delivery of physical goods or securities.
"This has grown dramatically and has applicability across a massive range of assets," Jones said, adding that the retail foreign exchange CFD market is one of the biggest, with around $8 billion.
The Big Board parent has been working on the plan for the past nine months and is close to signing contracts with partners and vendors, he said.
Because the market trades a specific OTC contract and not a future contract, it will be able to trade all assets, including those not on NYSE exchanges.
"We will have markets in oil, in gold, in foreign exchange, in bonds, in different commodities, in interest rates, including those in our markets, but also those in everybody else's market."
He said that, unlike other CFD market operators, NYSE would not be trading against its clients, but would be offering matched principle transactions as a regulated multilateral trading facility.
The new market is expected to turn a profit in 2014.
(Reporting By John McCrank in New York; editing by Andre Grenon)
Updated Date: Apr 03, 2012 03:30 AM