NSE nominates new chairman, sources say | Reuters
MUMBAI The National Stock Exchange (NSE) has nominated Ashok Chawla, the former head of the Competition Commission of India, to become its new chairman, three sources close to the matter told Reuters. The nomination comes after NSE said on April 6 that S.B. Mathur had stepped down as chairman after completion of his term of office
MUMBAI The National Stock Exchange (NSE) has nominated Ashok Chawla, the former head of the Competition Commission of India, to become its new chairman, three sources close to the matter told Reuters.
The nomination comes after NSE said on April 6 that S.B. Mathur had stepped down as chairman after completion of his term of office.
Chawla's appointment at the country's biggest bourse would need to be approved by Securities and Exchange Board of India (SEBI) which oversees exchanges in the country.
"It's not finalised yet," said one of the sources regarding Chawla's appointment, adding a decision from SEBI could come as early as next week.
National Stock Exchange and the SEBI did not respond immediately to requests for comment.
If approved, Chawla would become chairman at a time when the NSE is being criticised by some of its minority shareholders over the timing for a planned listing and accused of corporate governance lapses. NSE has publicly rejected these accusations.
Five shareholders, including SAIF II-SE Investments Mauritius Ltd and Norwest Venture Partners last month said NSE had "blatantly disregarded" the interest of its minority shareholders, including through a lack of communication and misrepresenting minutes of meetings.
"Some of the actions of developments over the recent past are neither aligned with shareholders' interests nor in line with industry best practices on corporate governance," these shareholders wrote in a letter dated March 7 and addressed to former NSE chairman S.B. Mathur that was seen by Reuters.
A key part of the dispute with some of its shareholders has been the timing of a planned listing.
Although smaller rival BSE Ltd has laid out plans to list by next year, NSE has objected to current rules that would force it to list on another exchange saying NSE has a more dominant share of trading than its rivals.
Chawla stepped down as chairman of CCI earlier this year. He has been a civil servant for most of his career and has been on the board of the Reserve Bank of India and served as a director for state-run Oil and Natural Gas Corp (ONGC.NS).
(Reporting by Rafael Nam; Editing by David Goodman and David Evans)
This story has not been edited by Firstpost staff and is generated by auto-feed.
World
This comes a day after the US Special Presidential Envoy for Climate John Kerry launched the Climate Action and Finance Mobilization Dialogue in New Delhi
World
European Commission president Ursula von der Leyen has come out in support of France saying "one of our member states has been treated in a way that is not acceptable"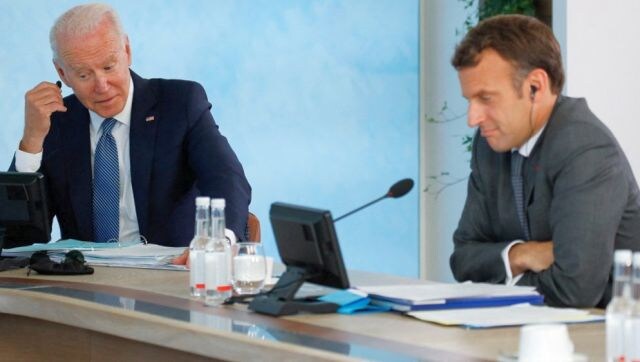 World
Paris is livid with its foreign minister saying the decision by Australia to get nuclear-submarines from America instead felt like a stab in the back