Nomura, RBS appeal U.S. judge's $839 million mortgage bond award | Reuters
By Nate Raymond | NEW YORK NEW YORK A U.S. appeals court appeared unlikely on Friday to overturn an order requiring Nomura Holdings Inc (8604.T) and Royal Bank of Scotland Group Plc (RBS.L) to pay $839 million for making false statements while selling mortgage-backed securities to Fannie Mae (FNMA.PK) and Freddie Mac(FMCC.PK).Lawyers for both banks urged the 2nd U.S. Circuit Court of Appeals in New York to reverse a 2015 ruling that followed a non-jury trial in lawsuit by the Federal Housing Finance Agency (FHFA) over mortgage bonds sold before the 2008 financial crisis.David Tulchin, Nomura's lawyer, argued a lower-court judge had no basis to find the alleged false statements were material, arguing she excluded evidence showing mortgage giants Fannie and Freddie knew of the loan underwriting practices at issue.'The district court excluded all evidence that Fannie Mae or Freddie Mac or any reasonable investor standing in their shoes knew about the underwriting practices at the time,' he said.But several members of the three-judge panel questioned Tulchin and RBS's lawyer about how that would excuse the banks if they made representations about the quality of the loans that Fannie and Freddie relied on in buying the mortgage bonds By Nate Raymond
| NEW YORK
NEW YORK A U.S. appeals court appeared unlikely on Friday to overturn an order requiring Nomura Holdings Inc (8604.T) and Royal Bank of Scotland Group Plc (RBS.L) to pay $839 million for making false statements while selling mortgage-backed securities to Fannie Mae (FNMA.PK) and Freddie Mac(FMCC.PK).Lawyers for both banks urged the 2nd U.S. Circuit Court of Appeals in New York to reverse a 2015 ruling that followed a non-jury trial in lawsuit by the Federal Housing Finance Agency (FHFA) over mortgage bonds sold before the 2008 financial crisis.David Tulchin, Nomura's lawyer, argued a lower-court judge had no basis to find the alleged false statements were material, arguing she excluded evidence showing mortgage giants Fannie and Freddie knew of the loan underwriting practices at issue."The district court excluded all evidence that Fannie Mae or Freddie Mac or any reasonable investor standing in their shoes knew about the underwriting practices at the time," he said.But several members of the three-judge panel questioned Tulchin and RBS's lawyer about how that would excuse the banks if they made representations about the quality of the loans that Fannie and Freddie relied on in buying the mortgage bonds.
"Couldn't Fannie and Freddie rely on you to do your job?" U.S. Circuit Judge Richard Wesley asked.The lawsuit was one of 18 filed by the FHFA in 2011 over some $200 billion in mortgage-backed securities that banks sold Fannie Mae and Freddie Mac. The FHFA has acted as conservator for Fannie and Freddie since their 2008 government takeover.The case is so far the only case to reach trial, after the regulator obtained nearly $17.9 billion in settlements from institutions that include Bank of America Corp (BAC.N), JPMorgan Chase & Co (JPM.N) and Deutsche Bank AG (DBKGn.DE)
Following a non-jury trial, U.S. District Judge Denise Cote, who presided over most of the cases, ruled against Nomura, which sponsored $2 billion of securities sold to Fannie and Freddie, and RBS, which underwrote four of the deals.The judge ruled that the offering documents did not correctly describe the mortgage loans. She awarded $806 million. The banks later agreed to pay another $33 million for costs and attorneys' fees subject to the appeal's outcome.
At Friday's arguments, Kathleen Sullivan, the FHFA's lawyer, urged the court uphold that ruling, saying the evidence showed the bonds' offering documents falsely represented the quality of the mortgages."We had every reason to rely on their representations," she said.The case is Federal Housing Finance Agency v. Nomura Holding America Inc et al, 2nd U.S. Circuit Court of Appeals, No. 15-1872. (Reporting by Nate Raymond in New York; Editing by Bernard Orr)
This story has not been edited by Firstpost staff and is generated by auto-feed.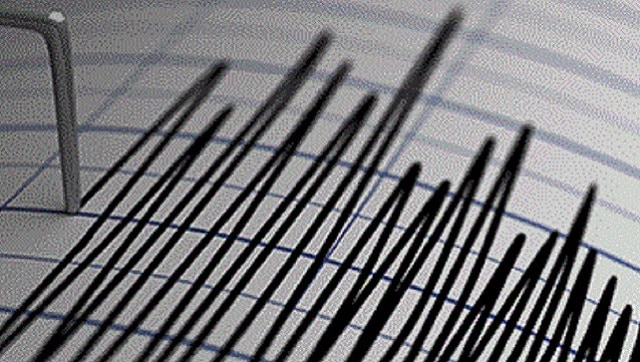 World
The US Geological Survey says the first quake struck about 17 miles south of Naalehu and the second earthquake struck about 20 minutes later in the same area
World
Last Tuesday, North Korea fired a newly developed ballistic missile from a submarine in its fifth round of weapons tests in recent weeks
India
CNN-News18's Shreya Dhoundial speaks to top cybersecurity expert and Recorded Future CEO Christopher Ahlberg on China's digital army and what India needs to watch out for