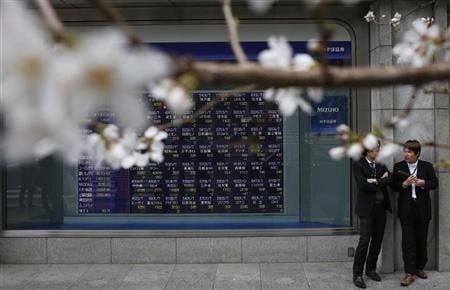 TOKYO (Reuters) - Japan's Nikkei share average dropped 1.2 percent on Thursday as Apple-linked shares came under pressure on concerns of slowing sales of the iPhone maker's products, while global growth worries dampened the appeal of exporters.
Apple Inc's (AAPL.O) suppliers in Japan took a battering after the U.S. tech company's stock tumbled 5.5 percent in New York as a key supplier, chipmaker Cirrus Logic (CRUS.O), gave a disappointing revenue forecast, fuelling worries about weakening demand for the iPhone and iPad.
Toshiba Corp (6502.T), Murata Manufacturing Co Ltd (6981.OS), Ibiden Co Ltd (4062.T) and Rohm Co Ltd (6963.OS) dropped between 2.1 and 3.7 percent.
Industrial robot maker Fanuc Corp (6954.T), whose clients include Taiwan's Hon Hai Precision Industry (2317.TW), Apple's main contract manufacturer, eased 2.3 percent and was the second-weighted loser.
The Nikkei .N225 ended 162.82 points lower at 13,220.07, breaking below its five-day moving average of 13,317.04.
Blue-chip exporters also faltered, with Toyota Motor Corp (7203.T) off 2.2 percent and Honda Motor Co (7267.T) down 1.3 percent.
A senior trader at a foreign bank in Tokyo said investors continued to sell financials, which have surged in the past few months on expectations of aggressive monetary easing by the Bank of Japan. Nomura Holdings (8604.T), Japan's top brokerage, eased 1.2 percent and lender Mitsubishi UFJ Financial Group (8306.T) slipped 0.8 percent.
The central bank on April 4 stunned financial markets by announcing a sweeping monetary expansion programme aimed at breaking a deflationary cycle and ending two decades of stagnation, promising to inject $1.4 trillion into the world's third-largest economy in less than two years.
One sector getting a lot of attention recently is gaming, said a senior trader. "We see a lot of two-way flow ... I think it is really speculative," he said of the price jumps in the sector.
Game developer GungHo Online Entertainment Inc (3765.OS) jumped 9.4 percent, extending this week's gain on news that its popular mobile game, Puzzles & Dragons, will be available on Nintendo's (7974.OS) handheld 3DS device.
Social gaming firms Gree Inc (3632.T) and DeNA Co Ltd (2432.T) climbed 7.7 and 2.3 percent respectively.
The broader Topix index dropped 1.2 percent to 1,122.97, with 4.37 billion shares changing hands, up from Wednesday's 3.8 billion.
FOREIGN INFLOW
The benchmark Nikkei has rallied more than 50 percent and the yen has weakened more than 20 percent against the dollar since mid-November, when Shinzo Abe, who became Prime Minister in December, promised bold expansionary monetary and fiscal policies during his election campaign.
During that period, foreign investors have ploughed 8.22 trillion yen into Japanese equities.
Their net buying of Japanese stocks hit the highest last week since the Ministry of Finance started collecting data in 2005, buoyed by the BOJ's massive stimulus steps unveiled on April 4.
The investors bought 1.57 trillion yen worth of Japanese shares in the week through April 13, piping the previous record of 1.12 trillion in the week of March 3 to 9.
"Fund managers are still underweight -- and the experience from past periods in which foreigners started favouring Japan suggests that, although foreign buying has started to accelerate, it should have further to go," Credit Suisse wrote in a note this week.
"The rate of net foreign buying can remain at current levels for a long period."
Societe Generale recommended investors go long Japanese shares, through hedging against currency risk, and short China, Korea and Taiwan.
"Competitive positions are changing fast in Asia. In effect, Korea, Taiwan and China are losing competitiveness while Japan regains it," its strategists wrote in a note.
They proposed long automakers, real estate, technology hardware makers and transport firms as they will be the most to benefit from a weaker yen, and recommended going short media, utilities and household goods firms.
(Additional reporting by Ayai Tomisawa and Tomo Uetake; Editing by Shri Navaratnam)
Updated Date: Apr 19, 2013 05:15 AM