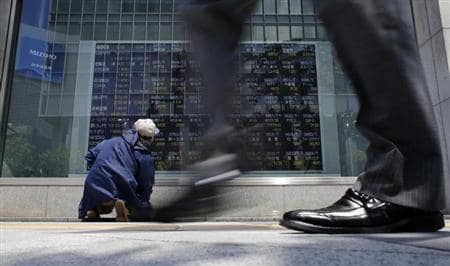 TOKYO (Reuters) - The Nikkei share average slipped for the first time in three days on Tuesday, moving away from 5-1/2 year highs as climbs in bond yields prompted profit-taking in reflationary plays such as real-estate and financial stocks.
The Nikkei, already on a bull run on the back of Japan's new monetary stimulus policies, has gained a further 4 percent since the dollar broke above 100 yen last Thursday and is now trading 7.6 percent above its 25-day moving average.
The benchmark has climbed 70 percent since mid-November when Japan's current prime minister, Shinzo Abe, began calling for bold monetary easing as part of his election campaign.
"It is quite natural for the market to hit such a speed bump after recent sharp gains," said Tomoichiro Kubota, a senior market analyst at Matsui Securities.
"Nevertheless, the underlying tone is still positive. I still think the Nikkei could test the 15,000 level as early as this week, depending on moves in the JGB market," he said.
The Nikkei shed 0.2 percent to 14,758.42, after marking a 5-1/2 year high of 14,849 on Monday.
Japanese government bond prices sold off for a third straight session on Tuesday and the benchmark yield hit a nine-month high, with the 10-year cash bond yield adding 7 basis points to 0.8450 percent.
The broader Topix gained 0.2 percent to 1,235.08. Trade was moderate, with 4.43 billion shares changing hands, close to last month's daily average volume of 4.31 billion shares.
Mitsubishi Estate (8802.T) slid 5.6 percent as reflationary plays lost some of their lustre. Among financials, Nomura Holdings (8604.T) fell 1.3 percent, becoming the second-most traded stock on the main board.
But there were notable gainers.
Kansai Electric Power Co (9503.T) and Kyushu Electric Power Co (9508.T) gained 13 percent and 6.3 percent respectively, after Nomura Securities hiked their ratings, citing the high likelihood of the two resuming nuclear power generation in the medium term.
Struggling audio equipment maker Pioneer Corp (6773.T) jumped 26 percent and was the third-biggest percentage gainer on the main board after saying it would form a capital alliance with NTT DoCoMo Inc (9437.T) and increase ties with Mitsubishi Electric Corp (6503.T) to improve its financial base.
The weakening in yen has improved the profit outlook for many Japanese firms, as many exporters have used assumptions of around 90-95 yen to the dollar for the year ending March 2014 - outlooks which now look very conservative as the dollar is trading around 101 yen.
"The market expects upward earnings revisions in the fall, when prospects for the fiscal year end will be clearer. Then, the Nikkei will have 16,200-17,300 in sight," said Nobuhiko Kuramochi, a strategist at Mizuho Securities.
Nomura Securities said it expects an average 26.2 percent rise in operating profit in the current business year for 188 of 330 Russell Nomura large-cap stocks excluding financials.
At the moment, forecasts from the 188 companies call for an average 19.6 percent rise in annual operating profit.
(Additional reporting by Ayai Tomisawa; Editing by Edwina Gibbs)
Updated Date: May 15, 2013 04:30 AM