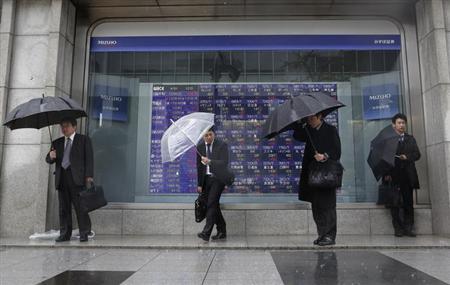 TOKYO (Reuters) - Japan's Nikkei average jumped 3 percent on Wednesday, its biggest one-day rise in almost two months, on growing expectations that the central bank will announce further easing steps on Thursday.
Index heavyweight Fast Retailing Co (9983.T) surged 13.9 percent and contributed 178 positive points to the benchmark after its Uniqlo casual clothing chain posted a 23.1 percent rise in same-store sales in March from a year ago.
The benchmark Nikkei rose 358.77 points to close at 12,362.20 after shedding 3.2 percent in the previous two sessions. The index, which ended the morning session 1.7 percent higher, accelerated its upswing in the afternoon.
"The Nikkei futures extended their gains in the afternoon, it's more like a short covering rally," said Masayuki Otani, chief market analyst at Securities Japan. "You can't overlook how much only a few heavyweights have push up the benchmark."
Mobile operator Softbank Corp (9984.T) jumped 5 percent and was the second top-weighted gainer, contributing 26 positive points to the Nikkei.
Analysts said that as selling by short-term investors was overdone early this week, investors bought stocks on the dips on Wednesday.
Trading, however, was quite moderate, with 3.16 billion shares changing hands on the broader Topix index versus last month's daily average of 3.24 billion, as attention was focused on the Bank of Japan's two-day policy meeting that ends on Thursday. The Topix climbed 1.9 percent to 1,010.43.
"In order for the new BOJ leadership to gain the trust of the market, they should avoid disappointing the market from the very first," said Eiji Kinouchi, Daiwa Securities senior strategist. "I think they need to, and will, fire off a bazooka."
New BOJ Governor Haruhiko Kuroda is likely to start open-ended asset purchases immediately, rather than in 2014, boost bond buying and extend the maturity of bonds the bank buys.
"We believe some monetary expansion measures beyond market expectations should be taken," said Toru Ibayashi, head of wealth management research at UBS Securities Japan in a note.
He said the BOJ's action should renew the weaker yen trend and added that along with positive earnings results from late April, Japanese exporters would be able to recoup recent underperformance.
Automakers also attracted buying, with Toyota Motor Corp (7203.T) adding 3.8 percent and Honda Motor Co (7267.T) gaining 4.6 percent.
Reflationary stocks with high asset value outperformed on hopes for Prime Minister Shinzo Abe's reflationary policy, with East Japan Railway Co (9020.T) gaining 5.6 percent and West Japan Railway Co (9021.T) advancing 3.5 percent.
But banking and real estate shares underperformed, with Nomura Real Estate Holdings Inc (3231.T) down 1.3 percent.
"Since these stocks have gained sharply this year, investors want to see if the outcome of the meeting will be priced in to the market immediately and the stocks will soon give up gains," said Masayuki Kubota, senior fund manager at Daiwa SB Investments.
(Additional reporting by Ayai Tomisawa; Editing by Sanjeev Miglani)
Updated Date: Apr 04, 2013 04:45 AM