New Delhi: The National Green Tribunal (NGT) has refused permission to some brick kiln units from operating in the no-development zone near Kaziranga National Park in Assam, saying they do not have consent of authorities and are also one of the "most polluting industries".
While disposing of the pleas, the NGT bench headed by Justice AS Naidu, who recently retired from the tribunal, also noted that there was controversy regarding whether the units are located within the no-development zone (NDZ) or outside it as claimed by the brick kilns in their application.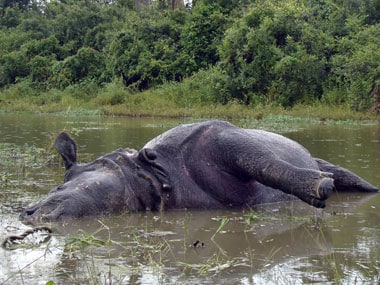 "It appears that the consent order for setting up the brick kiln is not available. Therefore, it is not possible for us to appreciate the clauses/conditions imposed. That apart, there is controversy with regard to exact location of the brick kiln(s) i.e. as to whether the same is situated within the NDZ or outside.
"The applicant(s) cannot be permitted to function within the NDZ of Kaziranga National Park in the absence of consent," the bench said.
The brick kilns had moved the NGT seeking review of its February 15, 2012 order restraining grant of fresh approvals to industries or stone-crushing units and renewal of licences of existing ones operating in the NDZ near the park.
The February 15 order had come in a case filed by Assam-based activist Rohit Chaudhary, seeking directions to stop quarrying and stone-crushing units around Kaziranga.
In their appeal seeking permission to operate, the brick kiln owners had claimed they were situated beyond the NDZ and were set up after complying with all the formalities.
This contention was opposed by the Ministry of Forests and Environment (MoEF) and Chaudhary's counsel.
While disposing of the appeal filed by the brick kiln owners, the tribunal, however, granted them liberty to approach authorities concerned for grant of consent and added that their applications for permission should be considered "strictly in consonance with the rules" and after verifying whether the units are located in the NDZ or outside.
Chaudhary, in his plea, had alleged large-scale violation of July 5, 1996 notification of the MoEF which declared the area within a radius of 15 km from the petroleum refinery at Numaligarh near the national park as NDZ.
He had also alleged unregulated quarrying and mining activities in the NDZ around the park and tiger reserve and Karbi-Anglong Elephant Reserve in Assam.
Chaudhary had also sought directions to the MoEF and the Assam government to identify stone-crushing and industrial units operating in NDZ without approval and to take necessary action against them including their closure.
Kaziranga is home to one-horned rhinos and also has the largest concentration of endangered species like swamp deer, wild-buffalo, elephant, tiger and Gangetic dolphin, the petitioner had said.
PTI
Updated Date: Feb 03, 2013 10:24 AM