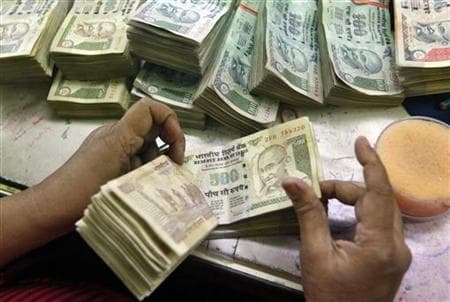 MUMBAI (Reuters) - The Rajya Sabha approved the long-awaited banking amendment bill as the country seeks to attract foreign investment and increase the number of lenders in the country.
However, the measures are expected to face steep challenges in their implementation at a time when confidence in the banking sector is low due to high valuations in the private sector and poor earnings at state-run lenders.
The bill, which will become law once signed by President Pranab Mukherjee, increases the ceiling on individual shareholders' voting rights at private sector banks to 26 percent from 10 percent and the limit to 10 percent at public sector banks.
A second key provision of the new law would lay the groundwork to issue new licences to non-banking financial companies in a bid to increase the number of lenders in India.
Despite the recent gains in banking shares and NBFCs expected to apply for new licences, analysts warned against expecting a flood of investments, while the central bank is expected to move slowly in issuing licences.
"Not everyone will be laughing all the way to a bank," Citigroup said in a note on Thursday.
The bill's main provision to increase shareholding rights are intended to attract individual investors, especially foreign ones, by giving them a bigger say in lending operations.
However, valuations will prove a tough hurdle, given private sector banks such as HDFC Bank (HDBK.NS) and YES Bank (YESB.NS) trade at 3.2-5.3 times book value, compared with state-run State Bank of India (SBI) (SBI.NS) at 1.4 times.
Meanwhile, public sector banks, which account for 70 percent of India's loans and deposits, are still dealing with a legacy of bad loans that are constraining earnings.
SBI, India's biggest bank, posted its smallest quarterly profit increase in 2012 in the September quarter.
"Investors would want to see how the operating environment changes for public sector banks," said Manish Ostwal, analyst with Mumbai-based brokerage KR Choksey.
The new banking bill also aims to lay the groundwork to issue new banking licences in a country in which more than 40 banks serve a population of 1.2 billion.
The Reserve Bank of India has the power to grant new licences, but is expected to move slowly given the regulatory risk posed by the entry of financial firms with no banking experience.
Despite earning new regulatory powers in the banking bill passed on Thursday, analysts say the RBI could issue only three to four licences in the next 12-15 months, denting expectations for a flood of new lenders in the sector.
(Additional reporting by Manoj Kumar in NEW DELHI and Shamik Paul in MUMBAI; Editing by Rafael Nam and Ron Popeski)
Updated Date: Dec 20, 2012 23:45 PM