Motherson Sumi sees more growth in North America, China | Reuters
NEW DELHI Motherson Sumi Systems Ltd ( MOSS.NS ), India's biggest auto parts maker, expects more growth from North America and China over the next few years than Europe, its biggest market, a top executive said after the company posted its highest ever quarterly profit. Higher growth from the two areas where it is building new plants would help Motherson Sumi reduce its reliance on Europe and achieve a target that no company, component or country should make up more than 15 percent of sales by 2020
NEW DELHI Motherson Sumi Systems Ltd (MOSS.NS), India's biggest auto parts maker, expects more growth from North America and China over the next few years than Europe, its biggest market, a top executive said after the company posted its highest ever quarterly profit.
Higher growth from the two areas where it is building new plants would help Motherson Sumi reduce its reliance on Europe and achieve a target that no company, component or country should make up more than 15 percent of sales by 2020.
"For 2020 we expect more growth coming from North America and China, and so the pie which is more skewed towards Europe will get redistributed," Chief Financial Officer G.N. Gauba said on Tuesday.
"The base there is also small relative to our presence and we have more capacity expansion coming up," he said.
Earlier on Tuesday Motherson Sumi reported a forecast-beating 22 percent rise in net profit to 4.14 billion rupees ($62.1 million) for its fiscal fourth-quarter. Net sales rose 8 percent to a record 100.7 billion rupees.
The company's shares surged to their highest level in more than eight months, ending the day 8.4 percent higher in a market that rose about 0.5 percent .BSESN.
The quarterly growth in revenue, however, was not equal across all units of Motherson Sumi, a group which makes wiring harnesses, rear view mirrors and car interiors such as dashboards and earns more than 85 percent of its revenue from overseas plants.
Sales at the Germany-headquartered unit Samvardhana Motherson Peguform (SMP), which makes bumpers, cockpits and door panels, grew by only 2 percent. Its exposure to scandal-hit Volkswagen AG (VOWG_p.DE) is partly to be blamed, say analysts.
Volkswagen in September admitted cheating on diesel emissions tests in its biggest-ever corporate scandal.
About 47 percent of Motherson's revenues came from Volkswagen, including sister brands Audi, Porsche and Seat, in the 12 months from April 2014 to March 2015.
The share has come down in the last fiscal year to March 31, Gauba said, but he did not specify by how much.
($1 = 66.7150 rupees)
(Additional reporting by Gaurav Dogra in Bengaluru; Editing by Subhranshu Sahu and Keith Weir)
This story has not been edited by Firstpost staff and is generated by auto-feed.
World
Antony-blinken News: Antony Blinken's India visit, US Secretary Of State Antony Blinken Arrives In Delhi On A Two-day Visit To India,will meet Indian Prime Minister Narendra Modi and Foreign Minister S Jaishanka, and Doval Today, Security High on Agenda as Blinken Meets Jaishankar,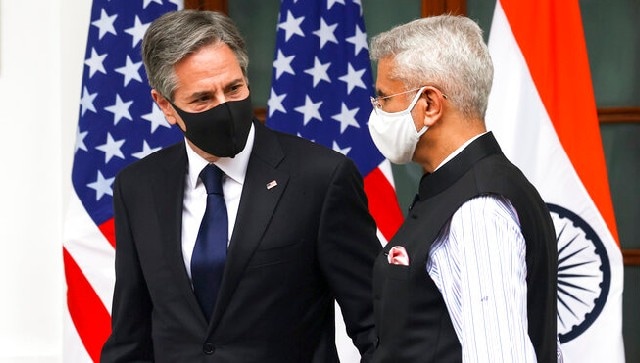 World
At a joint presser held after the meeting, Antony Blinken expressed the Biden administration's intent to grow stronger bilateral ties with New Delhi and stressed on the importance of cooperation on various regional and global issues
World
Several large fires have ravaged the western United States in recent days — notably in California, Nevada and Oregon, where the dangerous Bootleg Fire is still raging, even though the fire season has only just begun