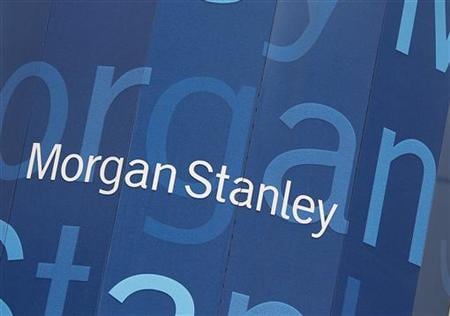 REUTERS - Morgan Stanley (MS.N) plans to cut 1,600 employees starting this week, two people familiar with the matter said on Wednesday, in the latest sign of a pullback on Wall Street as revenue from trading and deal-making remains in the doldrums.
The job cuts pertain to Morgan Stanley's institutional securities unit - which includes sales, trading and investment banking, and whose staff will be reduced 6 percent - as well as related support staff who work in areas like technology, said the sources, who were not authorized to speak publicly about the matter.
Morgan Stanley Chief Executive James Gorman has pledged to reduce costs, and said in July that he planned to reduce overall staff 7 percent in 2012. The new job cuts are in addition to that plan, the sources said.
"This continues the steady drumbeat of negative news from banks," said Greg Cresci, a Wall Street recruiter with New York-based Odyssey Search Partners. "It's hard to tell where the bottom is, given how many banks have made similar announcements."
For the last two years, Morgan Stanley and other banks have been dealing with a revenue drought in their trading and investment banking businesses as activity remains weak, particularly in once-lucrative trading areas. New regulations that ban certain kinds of trading or make it more costly are also prodding banks to exit businesses and reduce staff.
JPMorgan analyst Kian Abouhossein said on Wednesday that he expects Wall Street banks to report a 10 percent decline in revenue for the fourth quarter, compared with the previous period, with double-digit declines in fixed-income and equity trading revenue and a 1 percent uptick in investment banking revenue.
Morgan Stanley's latest job cuts come just a week after Colm Kelleher took full control of the unit on January 1, and add to layoffs across the entire industry that have recently affected tens of thousands of employees.
Morgan Stanley's main rival, Goldman Sachs Group Inc (GS.N), cut 700 jobs during the first nine months of 2012 as part of a plan to reduce annual expenses by $1.9 billion. Analysts expect the firm's compensation pool to be much lower in the fourth quarter.
Citigroup Inc (C.N) announced plans last month to cut 11,000 jobs, including some in investment banking and trading, to save $1.1 billion in annual expenses. Credit Suisse Group AG (CSGN.VX) is also cutting securities jobs to reach an annual cost-savings target of 1 billion Swiss francs, while UBS AG (UBSN.VX) said it would cut 10,000 jobs and exit the fixed-income trading business amid losses and new regulations.
Bank of America Corp (BAC.N) is also in the process of cutting 30,000 jobs across the firm in a plan unveiled in 2011 aimed at saving $5 billion in annual expenses.
Banks have largely been cutting staff since the subprime housing crisis began to seize markets in late-2007. There was a brief uptick in hiring in 2009 and 2010, when conditions improved temporarily, but since then there has been an almost steady stream of layoff announcements.
On a net basis, U.S. financial companies including lenders, investment banks, insurers and real-estate firms, have cut 5 percent of their staff, or 50,900 employees since the end of 2007, according to U.S. Department of Labor data. The most recent data available run though November.
"We are seeing a redrawing and restructuring of the industry," said John Challenger, chief executive officer of the employment consulting firm Challenger, Gray & Christmas. "The map continues to be redrawn in terms of regulation, who the competitors are, and the resources banks are willing to commit to the investment banking business."
Although Morgan Stanley's layoffs will affect all staff levels, the likely targets will be more senior employees who take in the biggest paychecks, said one of the sources.
About half of the job cuts will occur in the United States, with the rest affecting international units, said the source.
Morgan Stanley does not regularly disclose the number of employees in its institutional securities business, but it had 57,726 employees worldwide as of September 30. The company is expected to report year-end figures in the coming weeks when it discloses fourth-quarter earnings.
Morgan Stanley shares fell 0.8 percent in afternoon trading to $19.50. Its stock was up 16 percent over the past 52 weeks as of Tuesday's closing price of $19.65, part of a broad rally in financial stocks. (Reporting By Lauren Tara LaCapra; editing by John Wallace, Theodore d'Afflisio, Dan Grebler and Gunna Dickson)
Updated Date: Jan 10, 2013 01:15 AM