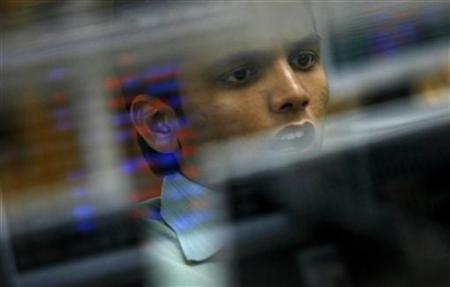 Reuters Market Eye - A holiday-shortened week is expected to see low volumes in share markets, which may enhance volatility ahead of the expiry of future and options derivative contracts on Thursday.
Traders will continue to watch developments on the political front after the DMK withdrew from the ruling UPA coalition.
The situation in Cyprus and the broader euro zone will also be closely tracked.
The Sensex and the Nifty are close to breaking their 200-day moving averages (DMA). The Sensex 200 DMA stands at 18,520 points, while the Nifty average lies at 5616.71 points.
Defensive shares like ITC Ltd (ITC.NS) and Cipla Ltd (CIPL.NS) may outperform amid expected volatility, rising risk, traders said.
KEY EVENTS/FACTORS TO WATCH:
Wednesday: Markets shut for a local holiday
Thursday: Expiry of March derivatives contracts, Balance of Payments, current account data, trade data (5:00 p.m.)
Friday: Markets closed for local holiday, forex reserves data (5:00 p.m.)
(Reporting by Abhishek Vishnoi)
Updated Date: Mar 23, 2013 01:45 AM