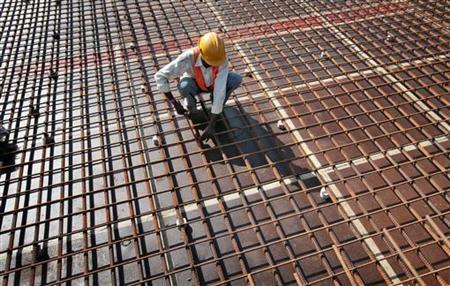 REUTERS - Larsen & Toubro (LART.NS), India's top construction and engineering company, said it expects sustained revenue growth in the medium term on a strong order book and economic reforms attracting capital inflows after its quarterly profit met street estimates.
The engineering conglomerate said net profit rose 15.8 percent to 8.64 billion rupees in April-June from a year earlier as it won major contracts in the infrastructure and power sectors. Sales rose 26 percent to 119.56 billion rupees.
"Some of the sectors in which we operate, especially transportation and buildings and factories, have seen some momentum," Chief Financial Officer R. Shankar Raman told reporters on Monday.
"Also there is some spillover of orders from Q4 (Jan-March) that we realised in this quarter."
The company's order book, which indicates its outlook, stood at 1.53 trillion rupees at the end of June, up 11.7 percent from year ago. L&T said it won new orders worth 195.94 billion rupees in April-June.
The order book had fallen 12 percent in the fiscal year ended March, when a sharp slowdown in the economy hurt investment activity.
The company had forecast in May a 15-20 percent growth both in revenue and orders during the current fiscal year ending March 2013.
India's nearly $2 trillion economy grew just 5.3 percent in the March quarter, the weakest annual pace in nine years, compared with the 9.2 percent growth in the year-ago period.
L&T, whose projects include the 164 billion-rupee metro rail project in Hyderabad, said its key engineering and construction segment contributed 87 percent to the revenue during June quarter. About 80.5 percent of the operating profit came from this segment.
Select international markets in the Middle East, South East Asia and Commonwealth of Independent States (CIS) countries hold promising prospects, where the company is strengthening its presence, it said.
Shares in the company, valued by the market at $15.4 billion, gained 38.5 percent since January, while the BSE Sensex gained 10 percent during the same period.
L&T shares closed about 1 percent down at 1,376.75 rupees, while the broader Mumbai market lost 1.67 percent.
(Reporting by Ketan Bondre and Kaustubh Kulkarni; Editing by Gopakumar Warrier)
Updated Date: Jul 23, 2012 23:00 PM