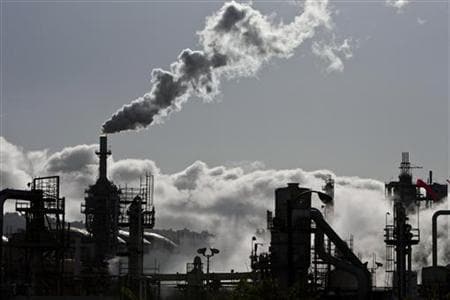 KHOBAR, Saudi Arabia (Reuters) - South Korea dominates a 20-strong pack of international engineering firms bidding to build a multi-billion-dollar refinery for state oil giant Saudi Aramco, sources close to the bidding said.
The refinery in Jizan, an underdeveloped province bordering Saudi Arabia's southern neighbour Yemen, is part of the kingdom's plans to boost its oil refining capacity, processing up to 400,000 barrels per day (bpd).
Aramco is expected to award engineering, procurement and construction (EPC) deals in the first quarter of 2013, two sources close to the process said.
Bidding closed on September 15 after some contractors asked for an extension from a previous mid-August deadline. The project is split into nine parts which include a hydrocracker, diesel hydrotreater, hydrogen production, crude distillation unit, and vacuum distillation unit.
The refinery, far from Saudi Arabia's big oilfields on the Gulf coast is expected to come online in 2016 and, along with two other refineries now under construction, will raise Aramco's domestic refining output to 3.5 million bpd.
Jizan will process heavy and medium Saudi oil grades to make around 75,000 bpd of gasoline and 250,000 bpd of ultra-low-sulfur diesel, along with liquid petroleum gases, sulfur, asphalt, and more than 1 million tonnes per year of benzene and paraxylene.
Companies bidding for the project include:
-South Korean firms: Daelim Industrial, Hyundai Engineering and Construction, GS Engineering and Construction, SK Engineering and Construction, Samsung Engineering and Construction, Daewoo E&C, Hyundai Heavy Industries, Hanwha Engineering and Construction.
-India's Larsen and Toubro, Chinese Sinopec E&C, Taiwan's CTCI, Egypt's ENPPI, Japan's JGC and Hitachi Plant Technologies, China Huanqiu Contracting & Engineering Corporation (HQCEC) and Petro Steel, which is a joint venture between Saudi-based Rafid Group and Singapore's Rotary Engineering.
Italian Saipem, Maire Tecnimont, Spanish Tecnicas Reunidas and Dragados, Britain's Petrofac are also in the bidding.
(Reporting by Reem Shamseddine; Editing by Daniel Fineren)
Updated Date: Sep 19, 2012 21:45 PM