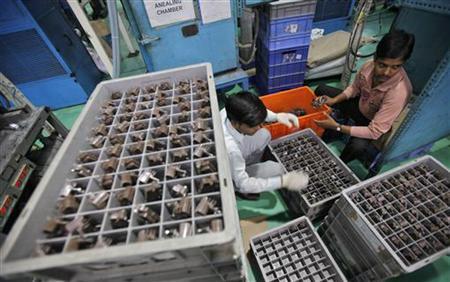 NEW DELHI (Reuters) - From Daimler trucks in Germany to tractors in Brazil, Rohit Saboo's Indian automotive parts are making their way into vehicles all over the world. But as he scales up exports to compensate for slowing growth at home, a lack of spending on innovation is undermining his sales pitch.
India's $43 billion auto components industry is increasingly targeting overseas markets for growth, building on its low costs and its experience supplying a world-class domestic market.
That push is being hampered by pitiful research and development budgets, together with a focus on price over performance, which has left the Indian industry in need of greater spending on new products.
"We have learned from ... international customers that if you do not have strong research and development, I don't think that we will be able to survive," said Saboo, president of NBC Bearings, which is investing 7 billion rupees over the next four years to increase capacity.
NBC spent just 0.4 percent of its 12 billion rupee revenue in the last fiscal year on R&D, far below China's industry average of 1.8 percent or Germany's 6.5 percent, according to consultancy McKinsey.
Saboo wants to raise his company's R&D spend to 1 percent of revenue this year, and 2.5 percent by 2016.
India exported $7 billion worth of auto parts in the fiscal year ended March 2012, less than 1 percent of the global market value as calculated by McKinsey. Raising that figure is central to keeping pace with the government's projected growth in India's car parts industry.
"We need to innovate... ensure we develop those components with extensive investment in R&D," said S. Sandilya, president of the Society of Indian Automobile Manufacturers, speaking on Wednesday at an auto industry conference in Delhi.
India's auto component industry, which blossomed in the 1980s as a result of investment from international carmakers such as Suzuki Motor Corp, has boomed further in the past decade due to rapid growth in domestic car sales and capacity expansions.
That knowledge base, plus low labour and material costs, is attracting overseas business. Volkswagen Group doubled its sourcing of auto components from India to 700 million euros this year, but maintaining that growth will depend on innovation.
"For us it is absolutely imperative that both indigenous suppliers and our global partners position themselves here in India as globally competitive from a quality and innovation and engineering and cost perspective," said Michael Boneham, president of Ford India.
(Editing by Daniel Magnowski)
Updated Date: Sep 09, 2012 13:15 PM