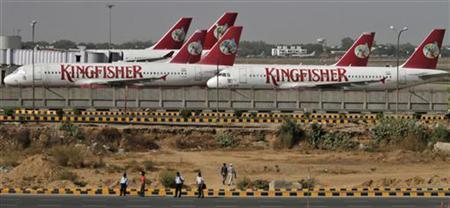 NEW DELHI (Reuters) - India's ailing Kingfisher Airlines(KING.NS), hungry for funds, said on Friday it will now be able to re-engage with prospective investors in a "more meaningful manner," after the government allowed foreign carriers to invest in local airlines.
The fortunes of Kingfisher, saddled with $1.4 billion in debt, hang on its ability to raise funds soon. It needs at least $500 million immediately to keep operating, according to the Centre for Asia Pacific Aviation consultancy.
"This will open up a wide range of opportunities for both Indian carriers and foreign carriers who wish to participate in the strong growth potential for civil aviation in our country," Kingfisher said in a statement.
India opened up its supermarket sector to foreign direct investment and allowed foreign airlines to invest in local carriers in a spate of policy actions on Friday, a day after New Delhi raised the price of heavily subsidized diesel in a bold political move. (Read story here)
(Reporting by Anurag Kotoky; editing by Matthias Williams)
Updated Date: Sep 14, 2012 23:15:39 IST