JPMorgan beats Wall Street expectations in tough quarter for banks | Reuters
JPMorgan Chase & Co, the No. 1 U.S.
JPMorgan Chase & Co, the No. 1 U.S. bank by assets, reported a quarterly profit that topped low market expectations as lower costs and better-than-expected trading revenue helped soften the blow from a fall in investment banking fees.
The drop in profit was the first in five quarters, but investors focused on the positives, helping to lift the shares of the bank and those of its rivals on Wednesday.
JPMorgan is the first U.S. bank to report results for what has generally been seen as the banking industry's worst start to a new year since the 2007-2008 financial crisis.
Banks around the world have been hit by a slide in commodity and oil prices, a slowdown in China, near-zero interest rates, mounting regulatory costs and hefty capital requirements.
JPMorgan's chief financial officer, Marianne Lake, said the bank may boost provisions to cover soured energy loans by another $500 million this year, on top of the $529 million taken in the first quarter.
Lake said there was a "high degree of variability" in that estimate, but added that the bank was not seeing signs of a broad contagion and did not expect to endure significant losses.
Even though oil prices have recently improved a bit, this was not enough to help the sector recover, Lake said on a call with analysts. Much of JPMorgan's exposure relates to natural gas, whose prices remain depressed, she said.
JPMorgan's exposure to oil and gas loans stood at about $44 billion as of Dec. 31.
Total provisions for credit losses nearly doubled to $1.82 billion in the latest quarter, mainly due to reserve increases related to the oil and gas and metals and mining sectors.
Apart from shrugging off JPMorgan's cautious comments about the energy sector, the market also took little heed of a report by a U.S. banking regulator that said the bank was among eight big lenders that didn't have credible plans for winding down operations during a crisis without public money.
JPMorgan Chief Executive Jamie Dimon also struck a positive note, saying "the U.S. consumer remains healthy and consumer credit trends are favorable" and that he did not expect a recession in 2016.
BEST IN CLASS
JPMorgan's results may be as good as it gets for the banks in the quarter, analysts said.
"We expect (the) results will be best in class and may be a rare example of a bank stock this quarter where consensus estimates could remain steady post results," Goldman Sachs analyst Richard Ramsden wrote in a client note.
JPMorgan's net income fell 6.7 percent to $5.52 billion in the quarter ended March 31. The bank earned $1.35 per share, handsomely beating the average estimate of $1.26, according to Thomson Reuters I/B/E/S.
Total revenue fell 3 percent to $24.08 billion, but beat the average estimate of $23.40 billion. Revenue from fixed-income trading - often JPMorgan's most volatile business - fell 13.4 percent to $3.60 billion.
Fourteen of 29 analysts covering the company lowered their earnings per share estimates by an average 1.5 percent in the past 30 days, according to Reuters data.
JPMorgan's investment banking revenue slumped 24.5 percent on lower debt and equity underwriting fees, even though the bank topped the global league table with $1.22 billion in fees during the quarter, according to Reuters data.
Total non-interest expenses fell 7 percent to $13.84 billion, helped by lower legal costs.
JPMorgan's shares were up about 4.2 percent at $61.75 at midday. Bank of America Corp and Citigroup were up 4.1 percent and 5 percent respectively.
(Reporting by Sweta Singh; Additional reporting by David Henry and Tenzin Pema; Editing by Ted Kerr)
This story has not been edited by Firstpost staff and is generated by auto-feed.
World
European Commission president Ursula von der Leyen has come out in support of France saying "one of our member states has been treated in a way that is not acceptable"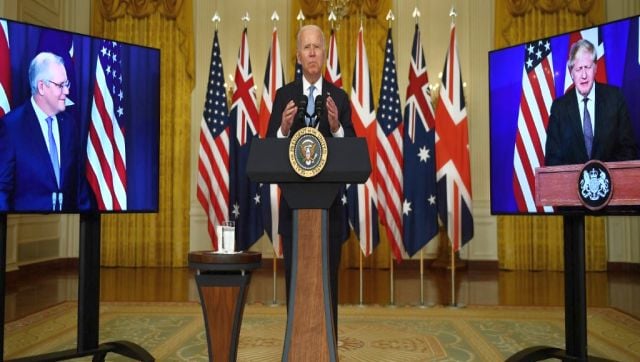 World
It is obvious that China's military aggressiveness, bullying of the nations in Indo-Pacific necessitated a response, and the 'historic' security alliance is aimed at mitigating the challenges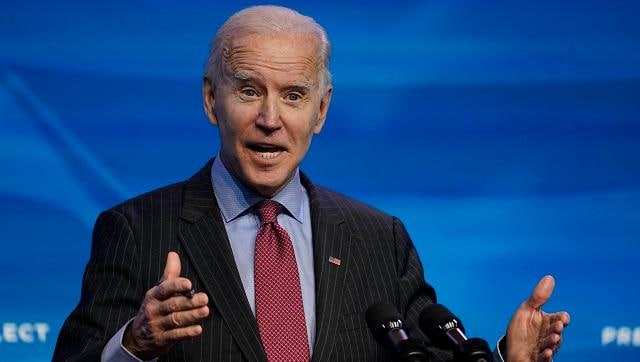 World
The new security alliance is likely to be seen as a provocative move by China, which has repeatedly lashed out at Joe Biden as he's sought to refocus US foreign policy on the Pacific