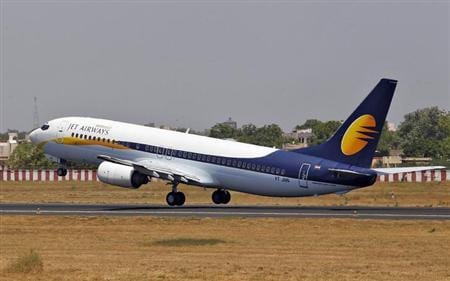 NEW DELHI (Reuters) - Jet Airways (JET.NS) and its smaller rival SpiceJet (SPJT.BO) reported quarterly losses on Friday as fare increases were not sufficient to cover high costs of operations.
Jet, which has agreed to sell a 24 percent stake to Gulf carrier Etihad in a $370 million deal, was optimistic of demand growth and said airlines were regaining their pricing power.
Airlines in India have increased fares in recent months after Kingfisher Airlines, once the country's No.2 carrier, stopped flying last October, burdened by its high debt and as its flying licence was suspended.
But high fuel costs and airport taxes, and a weak local currency still pose problems, and both Jet and SpiceJet cited these factors in their statements.
Jet said in a statement on Friday its planned deal with Etihad would bring "immediate revenue growth and cost synergy opportunities" and help strengthen its balance sheet.
Etihad's investment in Jet is the first by an overseas operator in an Indian airline since ownership rules were relaxed and provides Jet with a deep-pocketed global partner as well as cash to retire debt.
Jet shareholders approved the deal at a meeting in Mumbai on Friday, a senior company executive said, but a proposal to change the company's rules for operations, or the so-called Articles of Association, was deferred as the company awaits regulatory clarity.
The deal is yet to win approval from Indian regulators.
Jet, controlled by businessman Naresh Goyal, said its net loss widened to 4.96 billion rupeesfor its fiscal fourth-quarter ended March, from 2.98 billion rupees reported a year earlier.
Total revenue for the country's No.2 carrier by domestic market share, fell to 44.84 billion rupees from 46.34 billion rupees a year earlier. Jet said its fourth-quarter results included a one-time impact of 3.1 billion rupees, mainly due to payroll arrears, maintenance and foreign exchange losses.
SpiceJet, ranked No.3 by local market share, said net loss for the three month to March narrowed to 1.86 billion rupees from 2.49 billion rupees a year earlier.
SpiceJet however saw its revenue for the quarter rising 31 percent from a year earlier to 14.56 billion rupees as number of passengers grew by a fifth.
"We continue to be confident of the future," SpiceJet Chief Executive Neil Mills said in a statement, hoping the company's expansion on international routes will help improve its performance.
Ahead of the results, Jet shares closed 4.3 percent lower, but SpiceJet gained 2.6 percent in a Mumbai market that ended 0.3 percent higher.
(Reporting by Devidutta Tripathy; Editing by Sophie Walker)
Updated Date: May 25, 2013 01:00 AM