Iraq should be exempted from OPEC oil output freeze - minister | Reuters
By Maher Chmaytelli | BAGHDAD BAGHDAD Iraq should be exempt from OPEC crude output restrictions as it needs the income to fight the war on Islamic State, Oil Minister Jabar Ali al-Luaibi said on Sunday.
By Maher Chmaytelli
| BAGHDAD
BAGHDAD Iraq should be exempt from OPEC crude output restrictions as it needs the income to fight the war on Islamic State, Oil Minister Jabar Ali al-Luaibi said on Sunday. "We are fighting a vicious war," Luaibi said in a briefing for reporters in Baghdad, adding that Iraq, OPEC's second-largest producer, should get the same exemption as Nigeria and Libya.The Organization of the Petroleum Exporting Countries agreed in Algiers on Sept. 28 to reduce production to a range of 32.50 million to 33.0 million barrels per day, its first output cut since 2008, in order to support prices. OPEC says it pumped 33.39 million bpd in September. Iran, Libya and Nigeria, whose output has been hit by sanctions or conflict, have asked to be exempted from the cuts.Falah al-Amiri, head of Iraq state oil marketer SOMO, said Iraq's market share had been compromised by the wars it has fought since the 1980s. "We should be producing 9 million (barrels per day) if it wasn't for the wars," he said at the same briefing. "Some countries took our market share."
Iraq started an offensive last Monday to take back Mosul, Islamic State's last major city stronghold in Iraq, with air and ground support from a U.S.-led coalition. Luaibi said he supported OPEC's policy of restraining supply in order to support prices, and he would put Iraq's case for an exemption.OPEC ministers have left aside the delicate and critical issue of how much each of the 14 OPEC members will produce, handing the matter to what the group terms a High Level Committee.
This committee, which will probably include OPEC governors and national representatives - officials who report to their respective ministers - will work out details of country allocations ahead of OPEC's next ministerial meeting on Nov. 30.Of OPEC members, Iraq contributed the biggest output increase last year and this could rise in 2017 as international oil companies carry out contracts, Deputy Oil Minister Fayadh al-Nema said.Output could rise slightly this month, from September's 4.774 million barrels per day, SOMO's al-Amiri said.Last month's total includes 546,000 bpd from the Kurdish self-rule region (KRG) of northern Iraq, he said.
Total exports for September, including the KRG, were 3.871 million bpd, of which 3.276 million bpd were shipped from the southern ports, he said.The remaining 595,000 bpd were exported through the northern pipeline to Ceyhan, on Turkey's Mediterranean port, and include both Kurdish and Iraqi production from northern fields, he said.Iraq's state-run North Oil Company resumed exports through the Kurdish-controlled pipeline in August, after a five-month halt. North Oil increased its exports through the pipeline this month to about 133,000 bpd, from 95,000 bpd in September, produced in the region of Kirkuk, its director general Farid Sadik said. The pipeline also carries crude produced in Kurdish-controlled fields. (Reporting By Maher Chmaytelli; Writing By Maha El Dahan, Editing by William Maclean and Susan Thomas)
This story has not been edited by Firstpost staff and is generated by auto-feed.
science
Ebola outbreaks are usually thought to result from the virus "spilling" from an animal host to a human. But the analysis showed the Guinea strain was virtually identical to that from a 2013-16 wave.
World
Perhaps the most damaging legacy of 9/11, however, has been the homogenisation and Islamisation of the terror threat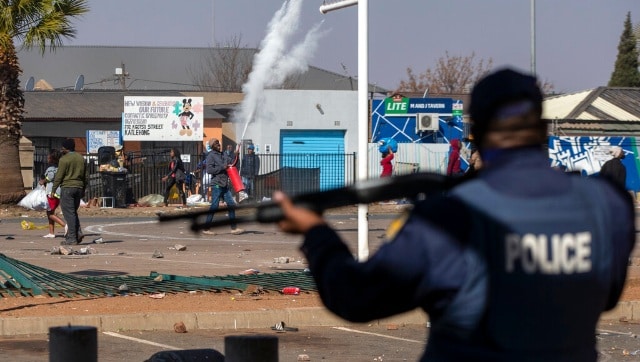 World
The way the political protest against former South African president Jacob Zuma's incarceration turned into wider rioting and looting highlights South Africa's widespread poverty, unemployment and economic disparity