Intel's results beat estimates; forecast disappoints | Reuters
By Rishika Sadam and Nayyar Rasheed Intel Corp (INTC.O) reported better-than-expected quarterly earnings and revenue, boosted by improving PC demand and growth in its data centre and cloud businesses, but its revenue forecast for the current quarter disappointed Wall Street.The world's largest chipmaker's shares were down 5.3 percent at $35.75 in after-hours trading on Tuesday.Intel said it expects fourth-quarter revenue of $15.7 billion, plus or minus $500 million. Analysts on average were expecting $15.86 billion, according to Thomson Reuters I/B/E/S.'This is below the average seasonal increase for the fourth quarter as we expect the worldwide PC supply chain to reduce their inventory,' Executive Vice President Stacy Smith said on a conference call with analysts.Last month, Intel raised its third-quarter revenue forecast for the first time in more than two years, citing improving PC demand.The company's decision to raise third-quarter forecast moved investors' expectations to a higher level, Stifel Nicolaus analyst Kevin Cassidy said
By Rishika Sadam and Nayyar Rasheed
Intel Corp (INTC.O) reported better-than-expected quarterly earnings and revenue, boosted by improving PC demand and growth in its data centre and cloud businesses, but its revenue forecast for the current quarter disappointed Wall Street.The world's largest chipmaker's shares were down 5.3 percent at $35.75 in after-hours trading on Tuesday.Intel said it expects fourth-quarter revenue of $15.7 billion, plus or minus $500 million. Analysts on average were expecting $15.86 billion, according to Thomson Reuters I/B/E/S."This is below the average seasonal increase for the fourth quarter as we expect the worldwide PC supply chain to reduce their inventory," Executive Vice President Stacy Smith said on a conference call with analysts.Last month, Intel raised its third-quarter revenue forecast for the first time in more than two years, citing improving PC demand.The company's decision to raise third-quarter forecast moved investors' expectations to a higher level, Stifel Nicolaus analyst Kevin Cassidy said.
Revenue from the data centre business, which offers storage and cloud-based software services, rose 9.7 percent to $4.54 billion in the third quarter, from a year earlier.Revenue growth from this unit for the full year will likely be in the high single digits, Intel Chief Executive Brian Krzanich said on the call.Demand for cloud-based services has been growing as more businesses shift to cloud-computing methods.
Intel, which has been hurt due to weak PC demand, said last month it was seeing signs of improvement among PC parts suppliers.According to research firm IDC, global PC shipments fell by a smaller-than-expected 3.9 percent in the third quarter. (bit.ly/2dIkLfi)Revenue from the company's traditional PC business, which still accounts for over half of Intel's total revenue, rose 4.5 percent to $8.89 billion.
Excluding items, the company earned 80 cents per share, above analysts' average estimate of 73 cents.The company's net revenue rose 9.1 percent to $15.78 billion, beating the average analyst estimate of $15.58 billion.Net income rose to $3.38 billion, or 69 cents per shares, in the third quarter ended Oct. 1, from $3.11 billion, or 64 cents per share, a year earlier. (bit.ly/2eeVLzW)Up to Tuesday's close, Intel's shares had risen 9.6 percent this year, lagging the 22.8 percent gain in the broader Philadelphia semiconductor index .SOX. (Reporting by Rishika Sadam and Nayyar Rasheed in Bengaluru. Additional reporting by Narottam Medhora; Editing by Maju Samuel)
This story has not been edited by Firstpost staff and is generated by auto-feed.
India
CNN-News18's Shreya Dhoundial speaks to top cybersecurity expert and Recorded Future CEO Christopher Ahlberg on China's digital army and what India needs to watch out for
World
Russia is set to host the Taliban and other Afghan factions for talks Wednesday in a move that reflects Moscow's efforts to expand its clout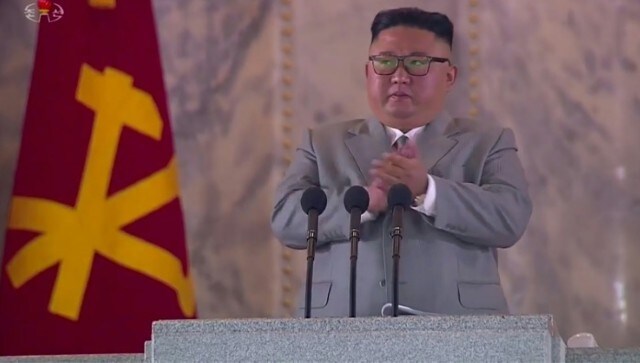 World
Kim also accused South Korea of hypocrisy because it criticises North Korea's weapons development as provocations while spending heavily to increase its own military capabilities