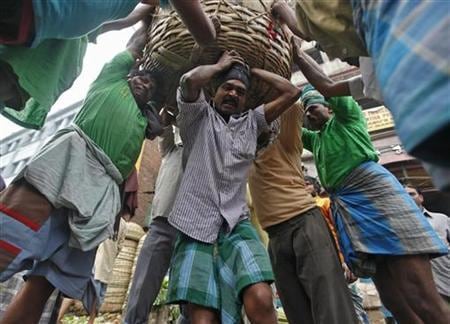 BANGALORE (Reuters) - Soaring food costs likely pushed Indian inflation to its highest level this year in June, a Reuters poll showed, suggesting the Reserve Bank of India (RBI) will remain hawkish on monetary policy.
The survey of 30 economists showed wholesale prices rising by an annual 7.62 percent in June, slightly up from 7.55 in May.
Forecasts were from 7.20 percent to 8.20 percent, narrower than the range in last month's poll.
Despite inflation falling below 7 percent between January and March, an upturn in prices since then has diminished already tepid expectations for further rate cuts from the RBI to bolster economic growth.
Although food prices only account for around 14 percent of the country's wholesale price index, they have a significant impact on the direction of overall inflation due to their volatile nature.
Expensive oil and chronically low global stocks of some key grains have put food inflation firmly back on the economic agenda this year, with the late arrival of monsoon rains set to put further pressure on prices in India.
"There is really nothing to indicate that food prices would have come off from the May levels," said Jyotinder Kaur, an economist at HDFC Bank.
The annual monsoon rains, which typically arrive in June, are a key source of water for 55 percent of farmland in India, where agriculture accounts for about 15 percent of the nearly $2 trillion economy.
"We don't see any flattening in inflationary pressures. It will just keep moving between 7 and 8 (percent) for the whole year," said Sumita Kale, chief economist at Indicus Analytics.
Only nine of the economists polled said inflation would ease in June from the month before.
WIDESPREAD CALLS
India's inflation, the highest among the so-called BRIC nations of Brazil, Russia, India and China, averaged 9.52 percent through 2010 and 2011, and has failed to ease much despite aggressive interest rate hikes by the RBI.
Conversely, inflation in China has dropped to a two-year low of 3 percent and is expected to ease even further in coming months.
This created room for the People's Bank of China to cut rates for the second time in weeks last Thursday in an effort to boost growth that is at its lowest level in nearly three years.
In contrast, the RBI at its June meet resisted widespread calls to cut rates and boost growth in Asia's third largest economy, which dropped to a nine-year low in the quarter to March.
"Headline inflation will have to moderate from the May levels of 7.55 percent or stabilize at that level for the RBI to convincingly cut rates in the near term," said HDFC's Kaur.
(Reporting by Deepti Govind; Editing by Andy Bruce and Joseph Radford)
Updated Date: Jul 15, 2012 17:45 PM