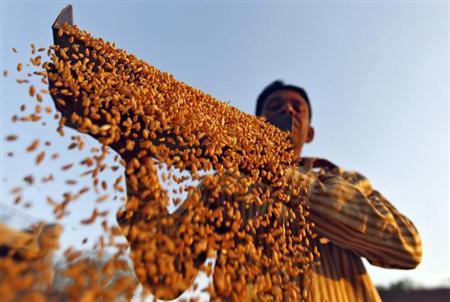 NEW DELHI (Reuters) - India's latest offer of more wheat for export is priced below government costs to source and handle the grain, but is still too steep for international buyers, leaving the possibility of extra sales to local bulk buyers.
The world's second-biggest wheat producer on Thursday allowed private traders to export up to 5 million tonnes of wheat from government warehouses but set a floor price of 14,800 rupees per tonne plus taxes.
The government's cost of buying wheat from domestic farmers, plus local levies, transporting the grain to warehouses and storage totals 17,690 rupees per tonne, a government official said -- 2,890 rupees a tonne higher than Thursday's offer price.
But even so, private traders such as Cargill Inc, Louis Dreyfus and Glencore will find the floor price too steep to lift government stocks for exports.
"Even if I agree with government's ultra-conservative freight estimates and local taxes, the floor price will translate to at least $300-$305 a tonne, while I can buy from the open market at $290," said a New Delhi-based trader at the Indian unit of a global trading company.
"Take it from me, the response from private traders will be tepid. Why should I buy government stocks at a higher price? It doesn't make any commercial sense," he said.
The 14,800 rupees price was first offered by the government in November 2012 to local biscuit makers and flour millers when it freed up 6.5 million tonnes for them as a means to cut stocks at its overflowing granaries.
"When we are giving wheat to our bulk buyers at 14,800 rupees, which itself is lower than the cost we incur on buying and storing, why should we subsidise foreign buyers as well?" asked a government official involved in policy making.
Biscuit makers and flour millers have so far lifted about 4 million tonnes of the 6.5 million tonnes offered to them. Buying is done through tenders from the state-run Food Corporation of India which can take time to process.
Tenders have also been used to sell 4.5 million tonnes of wheat that the government allowed for exports in 2012. State-backed companies have sold about 3 million tonnes so far.
If private traders continue to disagree and do not lift stocks for exports, the government retains other options.
"There will be some interest by private traders and even if there's no interest, we have other means of liquidating stocks. We can offer more to bulk buyers and allow more for exports by our own government agencies," the official said.
Traders were also concerned that a shortage of rail cars and port bottlenecks could delay cargoes.
The government is keen to expedite shipments and will write to port authorities to give priority to wheat cargoes and request the railways to offer extra cars, the official said.
(Reporting by Mayank Bhardwaj; editing by Jo Winterbottom and Keiron Henderson)
Updated Date: Mar 09, 2013 00:00 AM