India tickled pink as Asia warms to day-night tests | Reuters
NEW DELHI India, a country notoriously slow to adopt new ideas, has now embraced the concept of day-night test matches and it will surely not be long before twilight five-day games are a regular feature on the sub-continent. India and Pakistan are set to play floodlit tests this year while Sri Lanka and Bangladesh are considering following suit pending the results of domestic trials. India's all powerful board of control, the BCCI, has traditionally been suspicious of anything new and ensured the world's second most populous nation was the last of the major cricketing powers to embrace the Twenty20 format of the game
NEW DELHI India, a country notoriously slow to adopt new ideas, has now embraced the concept of day-night test matches and it will surely not be long before twilight five-day games are a regular feature on the sub-continent.
India and Pakistan are set to play floodlit tests this year while Sri Lanka and Bangladesh are considering following suit pending the results of domestic trials.
India's all powerful board of control, the BCCI, has traditionally been suspicious of anything new and ensured the world's second most populous nation was the last of the major cricketing powers to embrace the Twenty20 format of the game.
That embrace has quickly turned into a passionate love affair courtesy of the Indian Premier League (IPL) but the BCCI is still resisting the Decision Review System (DRS) with all its considerable might.
It insists it will not accept the technology, which is aimed at reducing umpiring howlers, until it is foolproof. As a result DRS is not used in any bilateral series involving India.
The commercial prospects of day-night tests, however, have not been lost on the world's richest cricket board and it announced last month it would host a floodlit test against New Zealand when the Black Caps tour later this year.
BCCI secretary Anurag Thakur said the controversial pink ball used in such contests would be trialled in the domestic Duleep Trophy to help captain Virat Kohli and his team prepare for the day-nighter.
"There are lots of factors that need to be taken into account. Things like dew factor, how the spinners bowl with the pink Kookaburra (ball) on Indian pitches," Thakur said.
The dates and venues of the series against New Zealand have yet to be confirmed but Kolkata's Eden Gardens has been put forward as a possible venue by Cricket Association of Bengal president and former India captain Sourav Ganguly.
"We want to play host to a pink-ball test in the future," said Ganguly. "We will try to host a local four-day match with the pink ball under the floodlights as a test."
Turnout for test matches in India generally lags far behind the full houses that can be expected for one-day internationals and some IPL fixtures.
Even those in the BCCI suspicious of change, therefore, were enthused by what they saw at Adelaide Oval last November when Australia and New Zealand played out the first floodlit test.
PICTURESQUE GROUND
The match only lasted only three days, hence the controversy over the pink ball, but attracted more than 123,000 fans through the gates at the picturesque ground as the hosts clinched the trans-Tasman series.
The Adelaide turnout looked even more impressive at a time when the game's longest format is grappling with dwindling crowds amid the many burgeoning Twenty20 leagues springing up across the cricketing globe.
Even Sri Lanka, who turned down Pakistan's proposal to play a day-night test in 2013 citing their inexperience with the pink ball, are now considering the option.
"We are looking at it very positively," Sri Lanka Cricket secretary Mohan de Silva told Reuters.
"We are gearing ourself for the eventuality. The ICC (International Cricket Council) has cleared it and (at some point), we'd also fall in line."
The ICC approved day-night tests in 2012 after successful trials of pink balls in Australia, England, Pakistan and South Africa.
Pakistan will play a day-night test in Australia in December and might play one before that, against West Indies in October, provided the Caribbean nations agree to the proposal.
Another Asian team, Bangladesh, are being a little more cautious about dipping their toes into the water.
New Zealand have proposed hosting a day-nighter when Bangladesh visit the country in December and England want to play a twilight test during their tour of the South Asian country in October-November, a Bangladesh Cricket Board (BCB) official told Reuters.
"We have not decided on either of the proposals yet," BCB media and communication committee chairman Mohammed Jalal Yunus said.
"We trialled the pink ball here but there were some issues regarding the shine and durability. We need to address those issues before taking a decision."
(Editing by Ed Osmond)
This story has not been edited by Firstpost staff and is generated by auto-feed.
First Cricket News
Follow live score and updates from the second T20I between Ireland and South Africa on our blog.
First Cricket News
The first of three T20s wasn't competitive, surprisingly so after a thrilling one-day international series that was drawn 1-1 last week.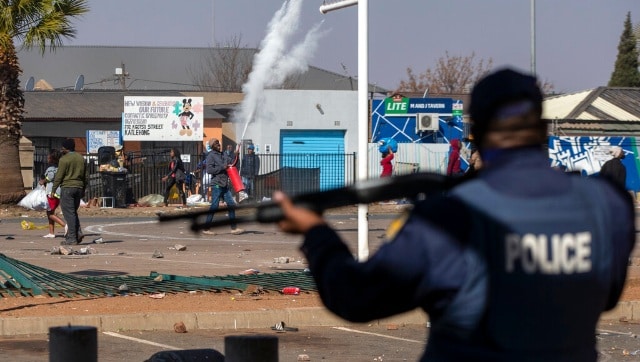 World
The tensions have been particularly high in the sprawling Indian township of Phoenix, north of Durban, and residents of three surrounding Black areas following the deaths of 22 people in Phoenix during the riots and looting last week by vigilante groups