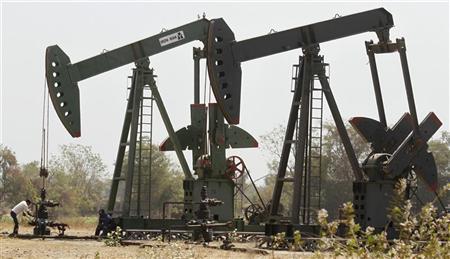 MUMBAI (Reuters) - India raised $585 million through a share sale in state explorer Oil India(OILI.NS) on Friday, an encouraging sign for the government's efforts to divest stakes in other state firms to bridge its fiscal deficit.
The government had offered 60.11 million shares, or 10 percent of the company's stock and had set a floor price of 510 rupees per share for bids. Before the offer, it held about 78 percent of the company.
By Friday's close, the Oil India offer had attracted bids for 154.14 million shares at an indicative weighted average price of 517.99 rupees, exchange data showed.
The bids for two-and-half times the shares on offer indicated rising investor interest in the oil and gas sector after the government partially freed diesel prices last month and ahead of an impending increase in natural gas prices, both aimed to bring down its fuel subsidy bill.
The subsidy burden on India's state oil producers and retailers has long been a worry for investors. Last year, a $2.6 billion stock auction in state explorer Oil and Natural Gas Corp (ONGC.NS) required large bids from state investors to be fully covered.
The Oil India offer follows a $1.1 billion share auction in state miner NMDC (NMDC.NS) in December.
Selling shares in state companies is a key element of the government's plan to bring down its fiscal deficit to 5.3 percent of gross domestic product by March-end to avoid a credit downgrade from global ratings agencies.
New Delhi aims to raise a total of $5.5 billion in the current fiscal year ending March through stake sales, a target many analysts and economists feel is optimistic.
Upcoming share sales in the current fiscal year include top power utility NTPC Ltd (NTPC.NS), state trading firm MMTC Ltd (MMTC.NS) and steelmaker Steel Authority of India Ltd (SAIL.NS).
Foreign institutional investors accounted for about 40 to 50 percent of the total Oil India bids, two sources with direct knowledge said. Final data on bids is expected later.
Analysts expected the offer to generate robust demand, given Oil India's attractive valuation compared to larger rival ONGC, and strong growth prospects for the company. Only two of the 40 analysts covering Oil India have a 'sell' recommendation on the stock, according to Thomson Reuters Starmine data.
Oil India, which accounts for 10 percent of the country's domestic crude output and about 5-6 percent of its natural gas, holds assets in India's northeast. It has also been aggressively scouting for overseas assets.
Shares in the company closed 2.7 percent lower at 525.50 rupees, but still at a premium to the indicative offer price. The stock has jumped 13 percent so far in 2013, compared with a 2 percent gain in the BSE Sensex.
(Additional reporting by Sumeet Chatterjee; editing by Keiron Henderson)
Updated Date: Feb 02, 2013 00:15 AM