India offers tax concessions to Apple to expand production - official | Reuters
By Manoj Kumar | NEW DELHI NEW DELHI India has offered to allow Apple Inc (AAPL.O) to import mobile handset components intended for use in local manufacturing tax free, a top government official said on Tuesday.
By Manoj Kumar
| NEW DELHI
NEW DELHI India has offered to allow Apple Inc (AAPL.O) to import mobile handset components intended for use in local manufacturing tax free, a top government official said on Tuesday. The tax concessions will be subject to the condition of increasing local value addition over a period of time. Apple Inc wants to expand its contract manufacturer's facility in the Indian tech hub of Bengaluru, Ravi Shankar Prasad, the union minister for Electronics and IT, said on Tuesday, as the iPhone maker seeks a bigger share in one of the world's biggest smartphone markets.Cupertino, California-based Apple last week started making iPhone SE at its Taiwanese contract manufacturer Wistron's plant in Bengaluru. Apple, which sold over 50 million iPhones in the March quarter, down 1 percent year-on-year, is looking for new markets as its sales in China have weakened. Among a set of tax concessions, Apple had initially sought a 15-years tax holiday for all components that it would import for setting up a manufacturing facility in India.
A panel of ministries rejected that demand and has offered a phased programme to increase the share of local production in the manufacturing, Aruna Sundararajan, Secretary at the Ministry of Electronics and IT said."We have offered them tax exemptions on those components which could not be manufactured in India," Sundararajan told Reuters, adding that local manufacturing component would have to be increased gradually.Apple has agreed to increase local share in production over a period of time, but there was a difference between the plans of the two sides, she said.
Apple was not immediately available for comment. India wants Apple to raise value addition share in phases of 3,5,7 and 10 years as the local capacity builds up, part of Prime Minister Narendra Modi's plans to boost manufacturing.Industry estimates the phased manufacturing programme could increase local value addition in mobile phones manufacturing to 40-50 percent in the next three years.
Earlier, Ravi Shankar Prasad said government officials were in touch with Apple and other mobile phone manufacturers about expanding facilities and setting up new plants."It will be a little early to say that India and Apple have agreed on the common ground," said the official, adding India was ready to work out a roadmap to encourage manufacturing. Industry estimates total value of mobile phones produced in India touched near 900 billion Indian rupees ($13.90 billion) compared with 540 billion rupees in the previous year."We are waiting for Apple to come back," said Sundararajan. ($1 = 64.7400 Indian rupees) (Additional reporting by Sankalp Phartiyal; Editing by Sherry Jacob-Phillips/Keith Weir)
This story has not been edited by Firstpost staff and is generated by auto-feed.
Find latest and upcoming tech gadgets online on Tech2 Gadgets. Get technology news, gadgets reviews & ratings. Popular gadgets including laptop, tablet and mobile specifications, features, prices, comparison.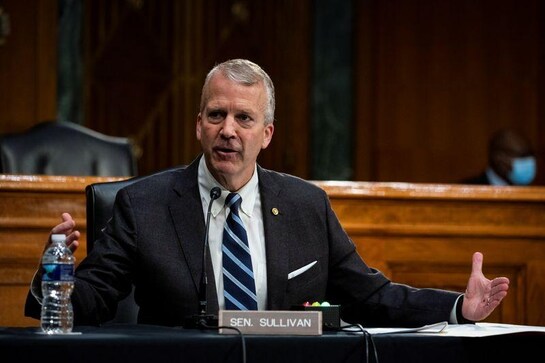 World
By David Morgan WASHINGTON (Reuters) - U.S.
World
LONDON (Reuters) - British Prime Minister Boris Johnson described his phone call with U.S. President-elect Joe Biden as a return to traditional issues in relations between Britain and the United States. "It was a kind of return to the kind of business that we're used to doing together: sticking up for democracy around the world, human rights, free trade, NATO, our joint security, the transatlantic alliance ..
World
By Nvard Hovhannisyan and Nailia Bagirova YEREVAN/BAKU (Reuters) - The fate of Armenia's prime minister hung in the balance on Wednesday after parliament agreed to discuss protesters' demands for his resignation over a ceasefire that secured territorial advances for Azerbaijan in Nagorno-Karabakh.