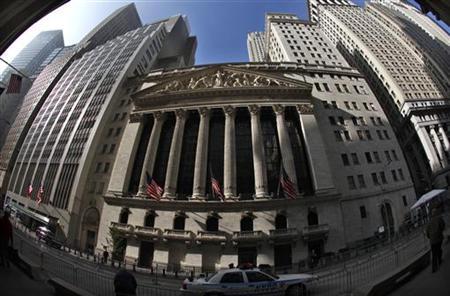 NEW YORK/LONDON (Reuters) - IntercontinentalExchange struck an $8.2 billion deal to buy NYSE Euronext, a combination that will propel the commodities market powerhouse into European financial futures but threaten to further reduce the clout of the New York Stock Exchange.
The deal will create a new player in global derivatives trading and clearing that would take on CME Group Inc (CME.O). While the New York Stock Exchange (NYX.N) has stood for 200 years as an iconic symbol of U.S. capitalism, it is almost an afterthought in this deal.
Atlanta-based ICE (ICE.N) said it will try to spin off the Euronext European stock market businesses in a public offering, generating speculation it may eventually shutter the NYSE's trading floor, as well. Profits from stock trading have been significantly eroded by new technology and the rise of private venues run by Wall Street banks and brokers.
Analysts said the deal will give ICE a strategic boost with control of Liffe, Europe's second-largest derivatives market, helping it compete against U.S.-based CME Group, owner of the Chicago Board of Trade. Derivatives trading remains quite profitable for the exchanges and new rules coming into play next year will dramatically expand the demand for clearing over-the-counter contracts.
Regulatory concerns sank two deals to buy NYSE Euronext last year, including a joint bid by ICE and Nasdaq OMX Group (NDAQ.O) and a separate bid from German exchange Deutsche Bourse (DB1Gn.DE). But ICE alone has far less overlapping business and should face easy approvals, antitrust attorneys said.
The deal values each NYSE Euronext share at $33.12, a 28 percent premium to the stock's closing price on Wednesday. Shareholders will have the option of accepting $33.12 in cash per NYSE Euronext share or 0.2581 ICE share or a mix of $11.27 in cash and 0.1703 ICE share, subject to a maximum cash consideration of $2.7 billion..
NYSE Euronext stock rose 33 percent, to $31.88, after the deal was announced. ICE's shares fell as much as 4 percent before clawing back some of the losses to trade down 0.6 percent, at $127.60, at 1810 GMT.
ICE said it would pay an annual dividend of $300 million once the deal closes.
NYSE Chief Executive Duncan Niederauer called the deal a "no brainer" on a call with analysts on Thursday. Further consolidation of exchanges was "inevitable" and ICE was a "great partner," he said, so continuing on alone did not make sense.
"We can sit here and keep slugging away and keep working hard, but the bottom line is we had not delivered, in my mind, sufficient returns to shareholders," Niederauer said.
Before the latest ICE offer emerged, NYSE Euronext's shares had fallen by nearly a third since ICE and Nasdaq launched their thwarted joint bid.
The newest offer first took shape in October when ICE Chairman and Chief Executive Jeff Sprecher, a consummate deal maker, called Niederauer to consider reviving their talks without the Nasdaq involved, said one person familiar with the situation who was not authorized to speak to the press.
ICE started out as an online marketplace for energy trading before Sprecher initiated a string of acquisitions from the London-based International Petroleum Exchange in 2001, to the New York Board of Trade and, most recently, a handful of smaller deals, including a climate exchange and a stake in a Brazilian clearing house.
A tie-up with Liffe would give Sprecher a boost to trade in to interest rates, one of the world's biggest asset classes and a particular specialty of CME. Liffe and CME have a long-time rivalry in trading of short-term interest-rate contracts, with each launching - to little effect - look-alike versions of the other's contracts. The CME declined to comment on the proposed deal.
"ICE is after Liffe, that is the crown jewel of NYSE Euronext," said Peter Lenardos, analyst at RBC Capital Markets.
NYSE bought Euronext, including Liffe, for 8 billion euros in 2007. "Strategically it makes sense for ICE to enter the European derivatives space in a meaningful way."
ICE's current main operations are in energy futures trading and, it has steered clear of stocks and stock-options trading, key businesses for NYSE Euronext. So there is not much business overlap between the two groups compared with last year's proposed takeovers.
"This deal is probably not going to generate a lot of concern from an antitrust perspective," said Warren Rosborough, a veteran of the U.S. Justice Department's antitrust division who is now with the law firm McDermott Will & Emery.
A small amount of competing derivatives business could be addressed with straightforward divestitures, he said. "It's an open question about whether it will generate questions," he said. "If there is a fix, it will be relatively easy fix."
Sprecher, who will be chairman and CEO of the combined company, said the deal had been "well received" by regulators after he and Niederauer completed a "whirlwind tour" in the United States and Europe ahead of Thursday's announcement. Officials at the European Commission and the U.S. Securities and Exchange Commission declined to comment.
Last year, the Justice Department blocked a $11 billion joint hostile bid by ICE and Nasdaq OMX on concerns the tie-up would dominate U.S. stock listings. A rival $9.3 billion bid by Deutsche Boerse fell afoul of European regulators.
A combined ICE-NYSE Euronext would leap-frog Deutsche Boerse (DB1Gn.DE) to become the world's third-largest exchange group with a combined market value of $15.2 billion. CME Group has a market value of $17.5 billion, Thomson Reuters data shows.
Hong Kong Exchanges and Clearing (0388.HK) is the world's largest exchange group with a market cap of $19.5 billion.
ICE said it expected to achieve $450 million in cost savings from the takeover. In the first year after the deal closes, additional earnings of 15 percent are expected.
Long-time Wall Street traders saw the potential takeover of the venerable stock exchange by a 12-year-old derivatives upstart as weighted with symbolism.
"It's the end of an era," said a director on the board of a rival exchange who did not have clearance to speak to the press and asked not to be named. "I think ultimately the floor will be closed, because Jeff (Sprecher) has shut every floor he's ever had," the person said.
The exchange was prepared to shut down the floor temporarily during superstorm Sandy and trade completely electronically, Wall Street executives said.
But one former New York Stock Exchange executive was doubtful that ICE would completely shut down the NYSE floor. "It has too strong a marketing brand associated with it to close it," said the executive, who declined to be identified because he is not permitted to speak to the press.
Morgan Stanley (MS.N) was the lead financial adviser to ICE, with assistance from BMO Capital Markets Corp, Broadhaven Capital Partners, JPMorgan Chase & Co (JPM.N), Lazard Group LLC LAZAR.UL, Societe Generale Corporate & Investment Banking, and Wells Fargo Securities LLC (WFC.N). ICE legal advisers are Sullivan & Cromwell LLP and Shearman & Sterling LLP.
The principal financial advisers to NYSE Euronext are Perella Weinberg Partners and BNP Paribas. Further financial advice to NYSE Euronext is being provided by Blackstone Advisory Partners, Citigroup (C.N), Goldman Sachs & Co. (GS.N) and Moelis & Co. Legal advisers to NYSE Euronext are Wachtell, Lipton, Rosen & Katz, Slaughter & May, and Stibbe NV. (Additional reporting by Luke Jeffs and David Brough in London, Jessica Toonkel, Diane Bartz and Karen Brettell in New York, Sarah N. Lynch in Washington and Ann Saphir in Chicago; writing by Carmel Crimmins and Aaron Pressman; editing by Philippa Fletcher)
Updated Date: Dec 21, 2012 04:45 AM