Hindustan Petroleum March-quarter profit beats estimates | Reuters
State-run oil marketing company Hindustan Petroleum Corp Ltd (HPCL.NS) reported a 31 percent jump in March-quarter net profit on Friday, beating street estimates, as income from operations grew.Net profit rose to 18.19 billion rupees ($282.12 million) in the fourth quarter ended March, from 13.88 billion rupees a year earlier, the company said in a statement. bit.ly/2qqp7NB Total income from operations climbed 21.7 percent to 591.83 billion rupees
State-run oil marketing company Hindustan Petroleum Corp Ltd (HPCL.NS) reported a 31 percent jump in March-quarter net profit on Friday, beating street estimates, as income from operations grew.Net profit rose to 18.19 billion rupees ($282.12 million) in the fourth quarter ended March, from 13.88 billion rupees a year earlier, the company said in a statement. bit.ly/2qqp7NB
Total income from operations climbed 21.7 percent to 591.83 billion rupees.
Analysts on average expected a profit of 12.17 billion rupees for the quarter, according to Thomson Reuters data.
HPCL shares surged 10 percent after the results. ($1 = 64.4750 Indian rupees) (Reporting By Arnab Paul in Bengaluru; Editing by Gopakumar Warrier)
This story has not been edited by Firstpost staff and is generated by auto-feed.
Find latest and upcoming tech gadgets online on Tech2 Gadgets. Get technology news, gadgets reviews & ratings. Popular gadgets including laptop, tablet and mobile specifications, features, prices, comparison.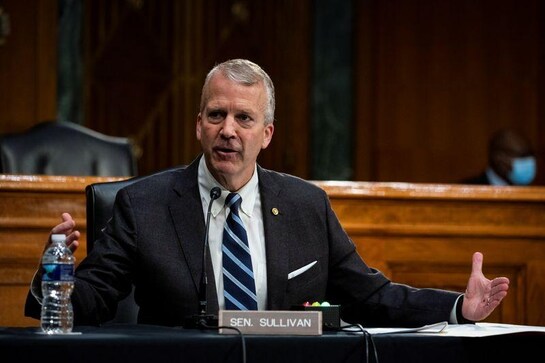 World
By David Morgan WASHINGTON (Reuters) - U.S.
World
LONDON (Reuters) - British Prime Minister Boris Johnson described his phone call with U.S. President-elect Joe Biden as a return to traditional issues in relations between Britain and the United States. "It was a kind of return to the kind of business that we're used to doing together: sticking up for democracy around the world, human rights, free trade, NATO, our joint security, the transatlantic alliance ..
World
By Nvard Hovhannisyan and Nailia Bagirova YEREVAN/BAKU (Reuters) - The fate of Armenia's prime minister hung in the balance on Wednesday after parliament agreed to discuss protesters' demands for his resignation over a ceasefire that secured territorial advances for Azerbaijan in Nagorno-Karabakh.