Highlights - G7 finance leaders debate global economy, risks | Reuters
SENDAI, Japan Finance leaders of the Group of Seven (G7) advanced economies gathered in the northeast Japanese city of Sendai for a two-day discussion on issues ranging from the global economy, its risks and an appropriate policy response. Below are key quotes from briefings by the finance leaders after the conclusion of G7 meetings on Saturday: FRENCH FINANCE MINISTER MICHEL SAPIN: 'We have growth, but it needs to be stronger and more sustainable
SENDAI, Japan Finance leaders of the Group of Seven (G7) advanced economies gathered in the northeast Japanese city of Sendai for a two-day discussion on issues ranging from the global economy, its risks and an appropriate policy response.
Below are key quotes from briefings by the finance leaders after the conclusion of G7 meetings on Saturday:
FRENCH FINANCE MINISTER MICHEL SAPIN:
"We have growth, but it needs to be stronger and more sustainable. There is a consensus that monetary policy is well-adapted and there are no big discrepancies in currencies, so there is no need to intervene."
"We don't need a big fiscal stimulus package similar to 2008, but countries that can should work on fiscal measures."
"The G7 did not talk about a 'Plan B' to respond to what would happen if Britain left the European Union. We talked about ways to help Britain stay in the EU."
GERMAN FINANCE MINISTER WOLFGANG SCHAEUBLE:
On Greece and the IMF:
"I have not solved any differences in my meeting with Madame Lagarde, because we have none."
"We will make it...whether we will finish the talks already on Tuesday, I am not sure about it."
On a Brexit-referendum:
"We hope that this will not lead to a Brexit."
"We agreed that (a Brexit) would be the wrong decision."
On economic growth policies:
"We must be careful, that the progress we have reached since the financial crisis of 2008 must not be wiped out because of...too much liquidity in the markets followed by increasing risk-takings."
"We all agreed that the state of the world economy is more positive and less nervous than somebody of us thought some weeks ago."
On growth strategy:
"We all agreed that there are three elements we need to pursue: structural reforms, monetary policy and fiscal policy.:
"The most important are structural reforms...there are more and more recognizing (in the G7) that structural reforms are crucial."
"We also have discussed the high volatility of the global capital movements, which are a high risk for the world economy."
BUNDESBANK GOVERNOR JENS WEIDMANN:
"In Germany, growth in the first quarter was pretty strong...but we expect that in the forthcoming months this growth-rate can not be maintained."
(Reporting by Leika Kihara, Tetsushi Kajimoto, Stanley White and Gernot Heller; Editing by Sam Holmes)
This story has not been edited by Firstpost staff and is generated by auto-feed.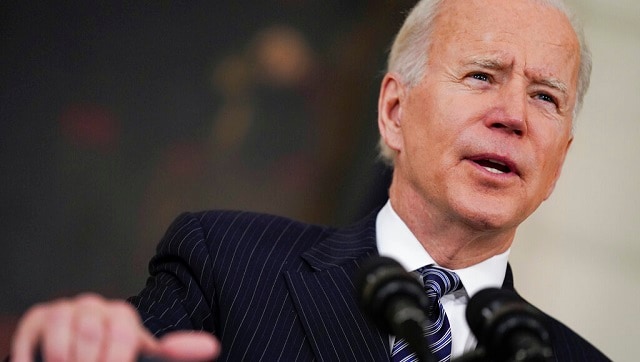 World
Biden said the US military will continue to assist Iraq in its fight against the Islamic State, and the security relationship will be focused on training and intelligence-sharing
World
Regular drills between Seoul and Washington have been a long-running source of animosities on the Korean Peninsula, with North Korea calling them an invasion rehearsal
World
The two-headed turtle was found during a routine inventory of sea turtle nests and the park's sea turtle patrols eventually released it into the ocean