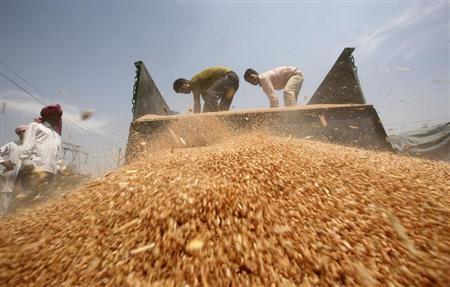 NEW DELHI (Reuters) - The government may consider allowing an extra 2 million tonnes of wheat exports next week after ministers put off making a decision on Friday.
Any additional exports by the world's biggest wheat producer behind China would further dampen global prices which slid to a two-month low this week as the U.S. winter wheat harvest progresses, boosting supplies when demand remains weak.
"The view was that the government should decide on exports separately (from a decision made today on local sales)," Food Minister K.V. Thomas told reporters after the cabinet meeting, chaired by Prime Minister Manmohan Singh.
On Wednesday, Thomas told Reuters in an interview that the cabinet would on Friday consider allowing 2 million tonnes of wheat exports.
Government-backed companies were around a year ago given permission to export 4.5 million tonnes of wheat until the end of this month. They have already sold almost the entire quantity permitted via tenders, with 100,000 tonnes offered in the last round this week.
But the cabinet approved freeing up 10.5 million tonnes of wheat and rice for sale to domestic bread and biscuit makers, flour millers, and state governments to sell cheaply to the poor.
This will help ease food prices, said Veena Sharma, secretary of the Roller Flour Millers Federation of India.
India's wholesale based food inflation rose to 8.25 percent in May from 6.08 percent in April.
(Reporting by Nigam Prusty and Mayank Bhardwaj; Editing by Joseph Radford)
Updated Date: Jun 22, 2013 04:45 AM