Goldman posts weakest results in 4 years, revenue tumbles 40 percent | Reuters
Goldman Sachs Group Inc ( GS.N ) reported the worst quarterly results in more than four years on Tuesday as volatile markets kept clients from trading, investing or issuing new securities. Goldman's report wrapped up a dismal quarter for big U.S.
Goldman Sachs Group Inc (GS.N) reported the worst quarterly results in more than four years on Tuesday as volatile markets kept clients from trading, investing or issuing new securities.
Goldman's report wrapped up a dismal quarter for big U.S. banks. The previous day, its most comparable rival, Morgan Stanley (MS.N), also said its profit fell by more than one-half due to tough markets.
Goldman's first-quarter revenues tumbled 40 percent, hit by sliding commodity prices, worries about the Chinese economy and uncertainty about U.S. interest rates. Profit fell even more sharply, emphasizing Goldman's reliance on the capital markets business, particularly bond trading which can be volatile.
Analysts peppered Chief Financial Officer Harvey Schwartz with questions about Goldman's commitment to bond trading as well as its unusually low returns during the quarter, and his outlook for the rest of the year.
"I certainly would not sit here and tell you we were happy about this quarter," he said. "But we will do what it takes over time to make sure that we deliver for our clients and maximize the returns for shareholders."
Goldman executives have repeatedly said they believe difficulties in trading are short term and that the business will come back. But as Wall Street approaches its sixth year of weak volumes and unexpected price swings that are hurting results, some investors are wondering how long the pain will last.
Overall, Goldman's profit fell by more than one-half from a year ago and quarterly revenue was the weakest in over four years. Highlighting the challenges, return on average common equity (ROE) - a measure of how well it uses shareholder money to generate profit - was 6.4 percent in the quarter, down from 14.7 percent a year earlier.
Many investors think ROE should be at least 10 percent to cover the cost of capital. Schwartz said Goldman has rarely reported single-digit returns, and that management is "quite focussed" on improving the measure. He also said markets improved somewhat in the early days of the second quarter.
Goldman managed to beat Wall Street earnings estimates, which had come down sharply in the weeks leading up to Tuesday's report.
"The market was braced for a weak quarter, but we think the breadth of weakness on the top line will be a disappointment as people try to grapple with the timing of the recovery," Evercore ISI analyst Glenn Schorr wrote in a client note.
Goldman's shares rose 2.3 percent at $162.65 after beating weakened analysts' expectations.
Through Monday's close, Goldman's stock had fallen about 12 percent since the start of the year, making it the worst performer in the Dow Jones industrial average .DJI. Shares traded just shy of the stated value of Goldman's hard assets.
"WE ARE OPEN-MINDED"
Last week, JPMorgan Chase & Co (JPM.N), Citigroup Inc (C.N) and Bank of America Corp (BAC.N) posted profit declines that were not as sharp, but suffered similar trends in their Wall Street businesses.
Goldman's net income applicable to common shareholders fell 56.3 percent in the quarter to $1.2 billion, or $2.68 per share. That compared with $2.75 billion, or $5.94 per share, a year earlier, when the bank recorded its best quarterly profit in five years.
Analysts, on average, expected earnings of $2.45 per share, according to Thomson Reuters I/B/E/S.
Net revenue fell to $6.34 billion from $10.62 billion.
One of the worst performers was the fixed income, currencies and commodities trading unit, known as FICC, in which revenue plunged 47 percent. The bank relied more heavily on that business before the financial crisis, but it still accounts for more than one-quarter of revenue.
Equities trading revenue, normally a strength, slid 23 percent to $1.8 billion. Investment banking revenue, which includes income from advising on deals and underwriting bond and stock offerings, dropped 23.2 percent to $1.46 billion.
Schwartz fielded more than five questions from analysts about the bond trading business. One analyst asked whether Goldman needed to undergo a more transformational change to boost its stock price.
"If we felt like there was a client segment or transaction we could do that would benefit our shareholders and we can deliver to those clients, we would do it," Schwartz responded. "We are open-minded."
Like other banks, Goldman is cutting costs to offset the revenue slump.
Compensation costs dropped by 40 percent from the first quarter of 2015.
Goldman paid or set aside $72,932 per worker in the first quarter, compared with $129,622 in the year-ago period. The bank sets aside a certain amount of money for year-end bonuses each quarter, and does not make final decisions until the end of the year, so compensation costs could change.
Operating costs outside of compensation fell 5.6 percent to $2.1 billion, partly as a result of lower provisions for litigation and regulatory matters.
(Reporting by Sudarshan Varadhan in Bengaluru and Olivia Oran in New York; Additional reporting by Richa Naidu in Bengaluru; Editing by Lauren Tara LaCapra and Jeffrey Benkoe)
This story has not been edited by Firstpost staff and is generated by auto-feed.
World
The Taliban seized control of Afghanistan in mid-August, ousting the previous elected leadership which was backed by the West
World
The financial drain from a sprawling counterterrorism campaign has been vast, fueling the military's budgets even years after major combat in Afghanistan and Iraq ended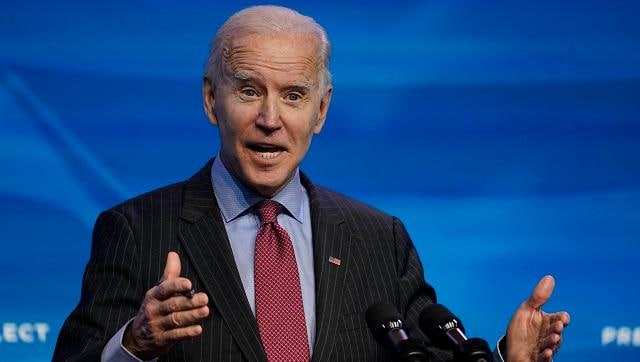 World
The insurgent group has a lot to do before they can get any recognition for its regime, White House Press Secretary Jen Psaki said