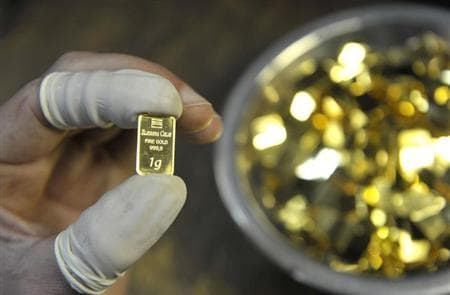 NEW YORK/LONDON (Reuters) - Gold rose on Thursday on better physical demand but buyers stayed cautious following the metal's historic sell-off earlier in the week.
Bullion rebounded sharply after falling almost 3 percent in Asian trade on news that holdings of the world's largest exchange-traded fund, the SPDR Gold Trust, had dropped 1 percent to their lowest level in three years.
Signs of improving physical demand at lower prices, including a spate of buying of gold bars, coins and nuggets in Asia, and very strong U.S. gold coins sales, lifted the market.
A pullback in U.S. equities on disappointing U.S. weekly jobless claims and factory data, combined with a broad recovery in commodities that was led by crude oil also supported gold's inflation-hedge appeal.
Sentiment among gold investors remains shaken as bullion's sharp losses prompted markets to question the metal's traditional status as a safe haven.
"Weakness in the equity market will likely see some longs reenter gold. It may be a long time before the yellow metal gives many the feeling of safety," said Carlos Perez-Santalla at commodities broker Marex Spectron.
Spot gold was down 0.8 percent at $1,387.50 an ounce at 3:37 p.m. EDT (1937 GMT), having earlier hit a low of $1,339.86.
The market fell by a combined $225 on Friday and Monday, which compares with a total trading range of $260 in 2012.
It is down about 18 percent so far this year, and at risk of posting its first annual loss after 12 consecutive years of gains.
"Volatility is likely to remain very high in the next few sessions," Commerzbank analyst Daniel Briesemann said.
Azerbaijan's $34 billion state oil fund is planning to add another 12 tonnes of gold to reach reserves of 30 tonnes, the fund's executive director told Reuters, news that helped support the market.
U.S. Comex gold futures for June delivery settled up $9.80 at $1,392.50, with trading volume in line with the 30-day average, preliminary Reuters data showed.
UNEASE
Buyers were wary of entering the market. Many feared hedge fund manager John Paulson, a prominent gold bull, might have liquidated his huge gold stake after the metal's rout.
Paulson's Advantage Fund, one of the hedge fund manager's biggest portfolios, is down 2.4 percent in April, largely due to the sharp selloff in gold, a source familiar with the numbers said on Thursday.
However, Paulson partner John Reade said earlier this week that the recent gold pullback has not changed the firm's bullish outlook.
Premiums for gold bars in Hong Kong were at $1.90 to $2.00 an ounce to spot, their highest level since early last year. Premiums in Singapore and Tokyo were also at multi-months highs.
Among other precious metals, silver eased 0.6 percent to $23.13, platinum was down 0.1 percent at $1,420, and palladium rose 0.5 percent to $665.72.
(Additonal reporting by Clara Denina in London and Lewa Pardomuan in Singapore; editing by James Jukwey and Peter Galloway)
Updated Date: Apr 19, 2013 03:30 AM