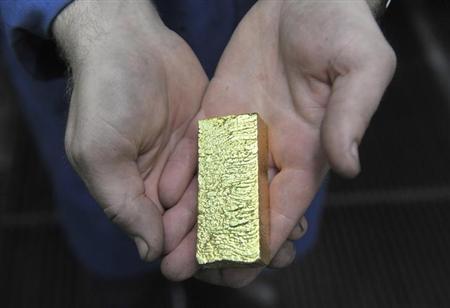 LONDON (Reuters) - Gold rallied on Thursday morning in Europe after a volatile Asian session saw prices slide towards two-year lows hit earlier in the week, with strong physical buying set against exits from exchange-traded funds.
The sharp drop in prices has triggered a spate of buying in gold bars, coins and nuggets in Asia, while U.S. gold coins have flown off dealers' shelves.
But traders said most remained unnerved by the fund exodus, due to worries on potential central bank sales sparked by a planned disposal by Cyprus and concern that U.S. monetary stimulus may be reduced.
Holdings of the world's largest exchange-traded fund, the SPDR Gold Trust, dropped to their lowest in three years, as persistent worries over global growth sapped broad investor confidence.
Gold, which has plunged around 18 percent this year, marked a session low of $1,339.86 an ounce. It had recovered to $1,394.14 by 0957 GMT, up almost 1.4 percent on the day.
Prices hit a 2-year low around $1,321 earlier this week after the biggest two-day drop in 30 years.
"What we have seen so far has been a tremendous appetite in terms of physical demand for gold, but we don't know how long that will last, but the key thing is what the investor flows do," Standard Chartered analyst Daniel Smith said.
"The danger is that lower prices force further liquidation in terms of the physical ETFs - that and the managed money positions in the United States are critical to follow."
U.S. gold futures for June delivery on COMEX were also up 0.9 percent at $1,394.40.
UNEASE
"You can see that sentiment is very fragile, very weak. The downtrend may not be over and U.S. investors have kept selling over the last two days," said Joyce Liu, an investment analyst at Phillip Futures in Singapore.
Traders in London said the atmosphere was overwhelmingly uneasy. "You just can't get a feeling for it, you are so nervous as when the price hits a certain level, electronic trading kicks in and makes the market even more volatile - it just gaps lower," one said.
Gold has ignored tension in the Korean peninsula and investors are increasingly convinced the U.S. Federal Reserve will soon end its bullion-friendly bond buying programme, which could ease inflationary pressure.
The precious metal recorded its biggest ever daily fall in dollar terms on Monday, catching gold bulls, speculators and veteran investors by surprise.
Cyprus's plan to sell excess gold reserves to raise around 400 million euros led to speculation other indebted euro zone countries could follow suit.
Premiums for gold bars in Hong Kong were at $1.90 to $2.00 an ounce to the spot prices in London, their highest since early last year. Premiums in Singapore and Tokyo were also at multi-months highs.
Other precious metals rode higher on gold's gains, with silver up 0.5 percent to $23.40, platinum rising 0.9 percent to $1,432.50 and palladium 0.7 percent firmer at $667.22.
(Additonal reporting by Lewa Pardomuan in Singapore; editing by James Jukwey)
Updated Date: Apr 19, 2013 04:30 AM