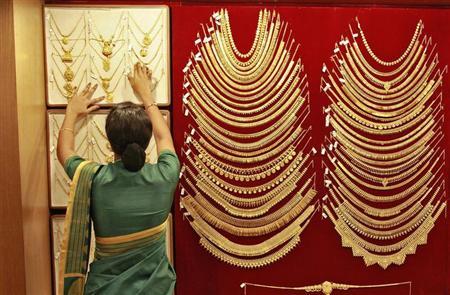 MUMBAI (Reuters) - Gold futures in India are likely to edge higher this week, supported by an improvement in physical demand and on expectation of a slowdown in redemption from gold exchange traded funds.
At 5.32 p.m., the actively traded gold contract for June delivery on the Multi Commodity Exchange (MCX) was 0.03 percent higher at 26,415 rupees per 10 grams.
"The market has been consolidating around the current level. There was continuous redemption from gold ETFs, but at the same there was huge physical demand," said Harish Galipalli, head of commodities research at JRG Wealth Management.
"Going forward, ETF redemptions will slow down and that, along with improved spot demand, should help gold in edging higher," Galipalli said.
The June contract may rise to 26,800 rupees this week, he said.
Gold futures have shed nearly a fifth after hitting a peak of 32,464 rupees in November last year, inducing retail demand in the world's biggest consumer of the precious metal.
In overseas market, gold rose on Monday, extending its gains after its strongest week in a month, as the dollar slipped and European stock markets steadied, while physical buying remained strong in Asia.
"The rupee is struggling to hold at current level. Further depreciation can increase appeal for gold," said a Mumbai-based gold dealer with a private bullion importing bank.
The rupee, which is trading near its lowest level in more than eight months, plays an important role in determining the landed cost of the dollar-quoted yellow metal.
Silver for July delivery on the MCX was 0.23 percent higher at 43,575 rupees per kg.
(Reporting by Rajendra Jadhav; Editing by Anand Basu)
Updated Date: May 28, 2013 01:45 AM