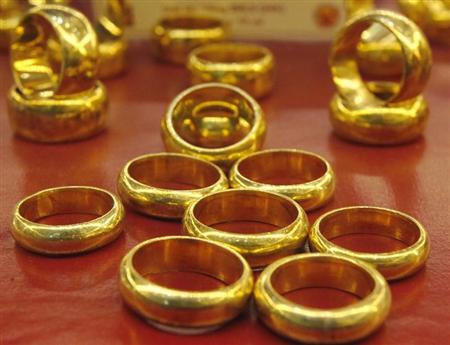 LONDON (Reuters) - Gold prices steadied on Wednesday as stock markets stabilised after two days of losses, but remained under pressure from expectations that central banks' commitment to ultra-loose monetary policy may be waning.
A firmer tone to U.S. data and comments from some Federal Reserve officials of late recently have led traders to speculate that the central bank may be set to taper its $85 billion monthly bond-buying programme.
That would undermine support for gold, which has benefited in recent years from the low interest rates and rising fears of inflation that have resulted from ultra-loose monetary policy.
Spot gold was at $1,378.10 an ounce at 0922 GMT, little changed from $1,378.99 late on Tuesday. The precious metal has fallen around half a percent so far this week.
Analysts said volatility in the financial markets may continue until the Fed's June meeting takes place next week and the bank's chief Ben Bernanke makes his accompanying statement on Wednesday.
"Technically gold will be under extreme pressure as long as $1,421 is not breached on a closing basis," Pradeep Unni, senior analyst at Richcomm Global Services, said. "The trend to the downside is vivid and $1,321 and $1,280 seem achievable."
"Markets will however wait for cues from the Fed next week," he added. "Lower imports from India after the duty hike will also be negative for gold."
Immediate pressure on gold eased as European shares steadied on Wednesday after sliding to six-week lows in the previous session, though traders reamined wary due to concerns that central bank support for markets is likely to wane.
The dollar index edged higher while the euro rose to a fresh 3-1/2 month high versus the dollar on Wednesday.
BUYING SOFT IN INDIA, CHINA
Demand was subdued on Wednesday in India, the world's largest gold consumer, which last week moved to cut gold imports by hiking import duties to 8 percent. Gold imports have been a key reason for India's wide current account deficit.
India's economic affairs secretary Arvind Mayaram said on Wednesday that government does not need to act to further moderate gold imports as recent steps have already had considerable impact.
A lack of buying in China, which is celebrating a national holiday, further undermined gold.
"With the Chinese out until Thursday, the market is lacking a key stabilising factor," ANZ said in a note. "We continue to see little support for gold at least until their return."
Silver was up 0.8 percent at $21.77 an ounce. The gold/silver ratio, which measures the number of silver ounces needed to buy an ounce of gold, retreated from last week's 2-1/2 year high as silver outperformed.
Spot platinum was up 0.1 percent at $1,480.74 an ounce, while spot palladium was down 0.2 percent at $748 an ounce.
Platinum producer Lonmin said on Wednesday it was confident it could reach a recognition agreement with South Africa's Association of Mineworkers and Construction Union (AMCU) and avert a strike.
AMCU wants to be recognised as the majority union at Lonmin as it now represents over 70 percent of the workforce. The union has threatened to issue strike notice if talks fail. (Editing by William Hardy)
Updated Date: Jun 13, 2013 04:00 AM