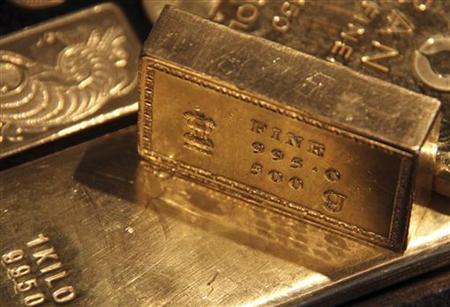 NEW YORK (Reuters) - Gold edged up on Friday, extending the previous session's 2 percent rally to hit a six-month high after the U.S. Federal Reserve unleashed another round of bullion-friendly stimulus.
Platinum group metals gained sharply on supply worries due to unrest among South African miners and a better demand outlook a day after the Fed pledged to pump $40 billion monthly into the U.S. economy until it saw a sustained upturn in the jobs market.
Investors looking to gold as a traditional inflation hedge against monetary stimulus by central banks around the world pushed bullion up for a fourth straight week for the first time since January.
"For gold prices to have extended gains even further, without the usual 'buy the rumor, sell the fact' pullback, is impressive," said James Steel, metals analyst at HSBC.
Steel said that gold's rally is likely to be sustained by the open-ended nature of the Fed's latest bond-buying program.
Spot gold was up 0.2 percent to $1,770.20 an ounce by 3:04 p.m. (1904 GMT) after climbing to an intraday high of $1,777.51, its loftiest since February 29.
U.S. COMEX gold futures for December delivery settled up 60 cents at $1,772.70 an ounce, with trading volume higher than average for a second straight day, preliminary Reuters data showed.
Sentiment in COMEX gold options was positive for a second straight day, and funds have been buying gold call options and other bullish plays throughout the session, said COMEX gold options floor trader Jonathan Jossen.
OUTLOOK MIXED
Analysts differed on whether gold could keep up the blistering rally.
"When multiple major central banks are coordinating their effort in printing more money and engaging in stimulus measures,
that has to be overtly bullish for gold," said Adam Sarhan, chief executive of Sarhan Capital.
The European Central Bank has unveiled an aggressive plan to tackle the three-year old euro zone debt crisis, while China's Premier Wen Jiabao said this week the government could utilize a massive fiscal stability fund to boost growth.
UBS gold strategist Edel Tully said that gold is due to encounter stiff resistance at an area between $1,790 and $1,803, the metal's highs from February and November.
Reuters data shows asset performance has tended to diminish with each new round of quantitative easing, or QE, from the Fed, and that it sometimes takes as long as a year for the effects of Fed action to kick in.
Among other precious metals, silver was down 0.2 percent at $34.58 an ounce. Platinum gained 1.7 percent to $1,705.25, while palladium was up 1.5 percent at $693.97 an ounce.
Platinum posted an 8 percent rise on the week, its biggest weekly gain since last October, due to supply fears caused by mine labor unrest in South Africa, which is estimated to own 80 percent of the world's platinum reserves.
(Additional reporting by Eric Onstad, Rujun Shen in Singapore and Veronica Brown in London; Editing by David Gregorio and Jim Marshall)
Updated Date: Sep 15, 2012 03:15 AM