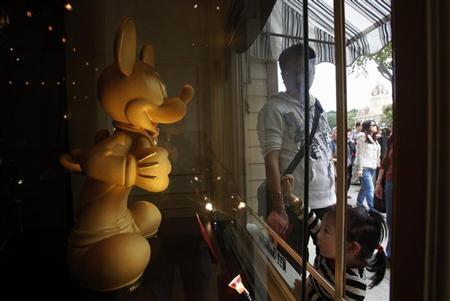 NEW YORK (Reuters) - Gold rose 1.3 percent on Tuesday, its biggest one-day gain in three months, as Federal Reserve Chairman Ben Bernanke's defense of U.S. bond-buying stimulus boosted bullion's inflation-hedge appeal.
The metal broke above $1,600 an ounce, extending its rally to a fourth straight day, after Bernanke said Fed policymakers are cognizant of potential risks from its loose monetary policy, but the risks did not seem material now.
Recent comments by top Fed officials suggesting the U.S. central bank could reduce or halt its asset buying had heavily pressured gold prices. A solid performance by U.S. equities driven by economic optimism had also prompted bullion selling.
Gold tumbled to a seven-month low on Thursday but has since rebounded 3.5 percent in the last four sessions.
"In the near term, this selloff may provide some opportunities given Bernanke's comment about the continuation of stimulus," said Robert Haworth, senior investment strategist at U.S. Bank Wealth Management.
Spot gold gained 1.3 percent to $1,615.16 an ounce by 2:54 p.m. EST (1954 GMT), its biggest one-day rise since November 23, 2012. It had earlier reached a one-week high of $1,619.66.
U.S. gold futures for April delivery settled up $28.90 at $1,615.50 an ounce, with trading volume around 45 percent above its 250-day average, preliminary Reuters data showed.
On Monday, gold had rallied as a sharp pullback in U.S. equities and uncertainty over the outcome of Italy's parliamentary election led to safe-haven buying.
In his testimony on the central bank's semiannual report on monetary policy, Bernanke said the Fed has all the tools it needs to retreat from its monetary support in a timely fashion.
"We do not see the potential costs of the increased risk-taking in some financial markets as outweighing the benefits of promoting a stronger economic recovery and more rapid job creation," Bernanke told the Senate Banking Committee.
Money printing by global policymakers to weaken their currencies and a pick-up in central-bank bullion buying should underpin gold prices, said Rob Lutts, chief investment officer of Cabot Money Management, which oversees about $500 million in client assets.
GOLDMAN CUTS GOLD FORECAST
The market largely ignored a cut of more than $200 in the gold price outlook by Goldman Sachs (GS.N), one of the top global bullion banks.
It reduced its 2013 gold price forecast to $1,600 an ounce from $1,810, citing bullion's recent price drop and an increase in U.S. real interest rates.
If that projection proves accurate, it will mark the first year gold has recorded a lower average price year-on-year since 2001, when its record-breaking 12-year bull run began.
Investment interest in the metal stayed weak. The world's largest gold-backed exchange-traded fund, SPDR Gold Trust, reported its fourth successive daily outflow on Monday.
Among other precious metals, silver rose 1.1 percent to $29.34 per ounce. Platinum was up 0.9 percent at $1,618.74, while palladium climbed 1.3 percent to $742.72 per ounce.
(Additional reporting by Jan Harvey and Clara Denina in London; Editing by Bob Burgdorfer and Dale Hudson)
Updated Date: Feb 27, 2013 03:45 AM