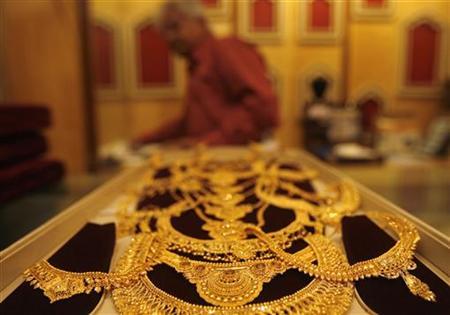 MUMBAI (Reuters) - Gold futures in India were stuck in a tight range, still near the highest level in three weeks, in line with global markets.
* India, the world's biggest buyer of gold, has been trying to curb the imports to put a lid on the record-high current account deficit. The federal government raised the import duty on gold, which it called a dead investment, by 50 percent to 6 percent in January.
* "Liquidity is tight in the market due to year-end and so there is no demand. Demand might drop if prices top 30,200 rupees," said Ketan Shroff, a director with Penta Gold, a wholesaler in Mumbai.
* At 3:21 p.m., the most-actively traded gold for April delivery on the Multi Commodity Exchange (MCX) was lower by 51 rupees at 29,776 rupees per 10 grams, after trading in a range of 29,613-29,889 rupees since Monday.
* U.S. gold traded nearly flat at $1,612.40, on course for a 1.2 percent weekly gain.
* A weaker rupee kept the downside in prices limited. The rupee plays an important role in determining the landed cost of the dollar-quoted yellow metal.
* Silver for May delivery on the MCX was 0.51 percent lower at 54,784 rupees per kg.
(Reporting by Siddesh Mayenkar; Editing by Anupama Dwivedi)
Updated Date: Mar 23, 2013 03:15 AM