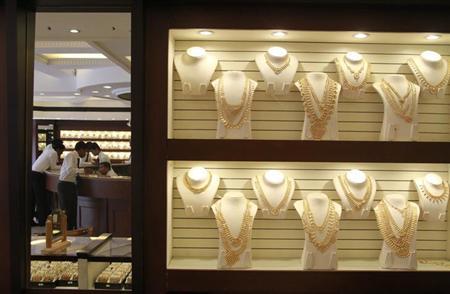 SINGAPORE (Reuters) - Gold fell for a second straight day on Wednesday as a holiday in China deprived the metal of a strong support base and as investors worried about global central banks scaling back their easy-money policies.
The Bank of Japan's (BoJ) move on Tuesday to refrain from taking fresh steps to calm turbulence in the domestic bond market, and Standard & Poor's upgrade of the U.S. credit outlook on Monday indicated that the global economy was on track for a recovery, hurting bullion's appeal as a hedge against inflation.
"The sentiment is still bearish," said a trader in Sydney. "Since there is no China today, we can expect gold to fall again towards $1,365."
China, which is on a three-day holiday for the Dragon Boat festival, has been a key support for gold prices during Asian hours as its demand continues to be strong. The No. 2 bullion consumer has, to an extent, overshadowed concerns about slowing demand in India, the biggest gold buyer, traders have said.
China's gold imports from Hong Kong touched an all-time high in March as buyers scrambled to buy bullion, and the surging appetite caused a supply shortage in April. Premiums for gold bars in China also touched record highs last month.
"With the Chinese out until Thursday, the market is lacking a key stabilising factor, and we continue to see little support for gold at least until their return," ANZ analysts wrote in a note.
Spot gold fell 0.3 percent to $1,375.1 an ounce at 0642 GMT, after a 0.5 percent drop the day before as equity and commodity markets were rattled by the BOJ standing pat.
Bullion had fallen to $1,366.65 on Tuesday, its lowest in nearly three weeks, before recovering some of the losses to close at $1,378.99.
India recently hiked its import duty on gold and implemented rules to curb gold financing by banks in an effort to reduce its import bill. The steps have had a considerable impact on imports, a government official said on Wednesday.
STIMULUS CONCERNS
Global markets have been on the edge since the U.S. Federal Reserve said last month it would scale back its $85 billion monthly bond-buying program if the U.S. housing and labour markets improved.
On Tuesday, BOJ Governor Haruhiko Kuroda said the central bank would consider fresh steps to calm markets if borrowing costs spike again in the future, but the central bank held off on immediate measures arguing that bond markets had stabilised.
The yen's slight pullback against the dollar prompted some gold buying in Japan on Wednesday, a Singapore-based trader said.
(Editing by Muralikumar Anantharaman)
Updated Date: Jun 13, 2013 05:30 AM