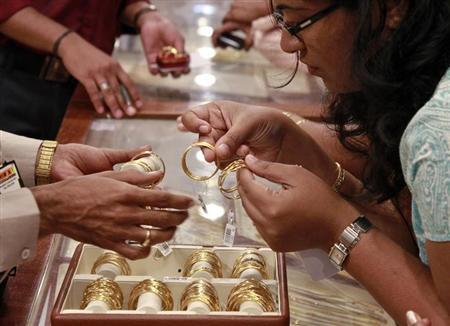 MUMBAI (Reuters) - Indian gold eased from its highest level in a week on Tuesday in line with global markets, triggering bargain buying by physical traders waiting to stock up for the wedding season.
* India, the biggest buyer of gold, has been trying to limit imports to keep a lid on record current account deficit, and the economic advisory council expects the country to import $45 billion tonnes of the yellow metal in the year to March 2014.
* At 3:23 p.m., the actively traded gold for June delivery on the Multi Commodity Exchange (MCX) was 136 rupees lower at 26,229 rupees per 10 grams after hitting a high of 26,448 rupees on Monday.
* Overseas gold dropped more than 1 percent, as investors in exchange-traded funds continued to liquidate positions, while a stronger dollar also weighed on prices.
* A weaker rupee, however, kept the price drop limited. The rupee plays an important role in determining the landed cost of the dollar-quoted yellow metal.
* "Demand is crazy here. What we hear from clients is that customers are flocking to showrooms," said a dealer with a foreign bank importing bullion.
* Gold premiums in India rose sharply to up to $10 an ounce on London prices, the level last seen in 2010.
* "Everyone wants material today. People are ready to pay anything for today's delivery, but there's lag of 8-10 days," said the dealer.
* India will celebrate Akshaya Tritiya festival next month, a time considered auspicious to buy gold. Also, the wedding season continues until July.
* Silver was down, taking cues from the yellow metal.
* Silver for May delivery on the MCX was 986 rupees lower at 42,701 rupees per kilogram.
(Reporting by Siddesh Mayenkar; Editing by Jijo Jacob)
Updated Date: Apr 24, 2013 04:32 AM