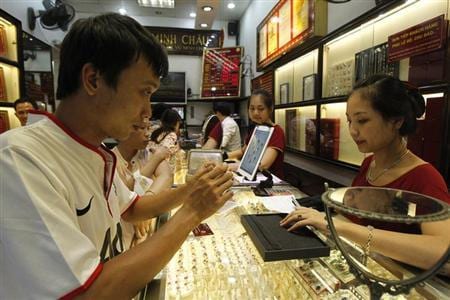 SINGAPORE (Reuters) - Gold slipped on Friday on a firmer dollar after the European Central Bank said it could cut interest rates further, but investors were waiting for U.S. jobs data later in the day for stronger cues.
Bullion has been trading in thin volumes this week as investors were reluctant to bolster positions ahead of the U.S. Independence Day holiday on Thursday and the nonfarm payroll report on Friday.
The payrolls data at 1230 GMT will give a better idea of when the Federal Reserve will begin tapering its $85 billion monthly bond-buying stimulus. Chairman Ben Bernanke has said the scale-back could begin in the next few months.
"The market is looking towards payrolls for direction," said Victor Thianpiriya, commodities analyst at Australia and New Zealand Banking Group.
"A downside surprise to the nonfarm payroll numbers will result in sharp short-covering as the market remains short."
ANZ is expecting nonfarm payrolls to increase by 140,000, while the market consensus is at 165,000.
Spot gold had dropped 0.5 percent to $1,243.04 an ounce by 0322 GMT. U.S. gold was down nearly $9 at $1,243.10.
Still, gold is headed for a weekly gain of about 1 percent, compared with a 5 percent drop in the last week when it fell to $1,180.71 - its lowest since August 2010.
The European Central Bank left its key interest rates unchanged on Thursday and said it would keep interest rates at record lows for an extended period and may yet cut further, responding to turbulence caused by the Fed's exit plan.
Gold posted its biggest quarterly loss on record in April-June after Bernanke said last month the U.S. economy was recovering strongly enough for the central bank to begin pulling back on its stimulus in the next few months and potentially end it by mid-2014.
Rapid outflows from gold exchange traded products (ETPs) and softer-than-expected physical demand are keeping gold prices under pressure.
Outflows from gold ETPs totalled $4.1 billion in June and $28.2 billion year-to-date, according to data from BlackRock.
Indian consumption has fallen since the government imposed new import restrictions, while Chinese buyers are waiting on sidelines for prices to fall further, or at least stabilize.
"Chinese premiums are holding up and we expect them to be strong buyers if we get a dip back below $1,200," ANZ's Thianpiriya.
(Reporting by A. Ananthalakshmi; Editing by Ed Davies and Joseph Radford)
Updated Date: Jul 06, 2013 05:30 AM