Gold dips as firmer oil prices boost equities | Reuters
SINGAPORE Gold eased on Tuesday as safe-haven bids retreated after oil prices steadied and equities edged higher, while uncertainty over U.S. monetary policy also weighed
SINGAPORE Gold eased on Tuesday as safe-haven bids retreated after oil prices steadied and equities edged higher, while uncertainty over U.S. monetary policy also weighed.
FUNDAMENTALS
* Spot gold XAU= had fallen 0.3 percent to $1,228.02 an ounce by 0045 GMT, after dropping 0.2 percent overnight.
* Gold had gained early on Monday after oil prices and Asian equities slid in the wake of oil producers' failure to agree on a plan to curb output, but ended the day lower as crude recovered.
* Oil prices edged up in early trading on Tuesday as an oil worker strike in Kuwait cut huge amounts of crude out of the supply chain.
* But analysts warned that the disruption would be short-lived and that markets would soon refocus on a global supply glut following the failure on Sunday by major exporters to rein in oversupply.
* World stock markets rose on Monday and the Dow Jones industrial average closed above 18,000 for the first time since July. [MKTS/GLOB]
* Commodity currencies soared on Tuesday with the Australian dollar hitting a 10-month high, while the yen, also seen as a safe-haven, weakened broadly as a strong rebound in oil prices boosted risk sentiment.
* Dovish comment from a U.S. Federal Reserve official did not help gold. The Fed is set to hike interest rates more rapidly than investors currently expect, Boston Fed President Eric Rosengren said on Monday, again pushing back on what he said was investors' too pessimistic view of the U.S. economy and monetary policy.
* But New York Fed President William Dudley said U.S. economic conditions are "mostly favourable" yet the Fed remains cautious in raising interest rates because threats loom.
* The Fed raised rates modestly from near zero in December, its first policy tightening in nearly a decade. While futures markets imply no further hikes until December, economists polled by Reuters see June as the most likely time for a second move. Fed projections imply about two more hikes before year end.
* Gold had posted its best quarterly jump in nearly 30 years on expectations the Fed will not be able to raise rates this year.
(Reporting by A. Ananthalakshmi; Editing by Joseph Radford)
This story has not been edited by Firstpost staff and is generated by auto-feed.
World
Lawyers and advocates question why most of the children are at unlicensed shelters.
World
Published in 2019, the book addresses the issue of migrant children traveling unaccompanied to the United States.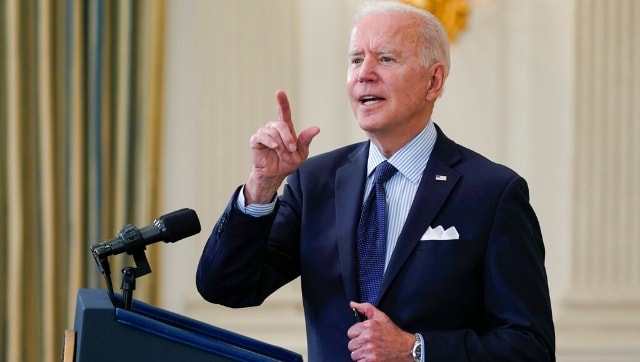 World
Biden will leave for the UK on Wednesday and then visit Brussels and Geneva as part of the trip, that ends next week