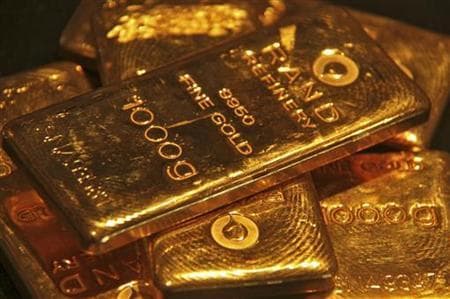 MUMBAI (Reuters) - Gold demand in India was sluggish on Thursday as many jewellery shops were closed due to a nationwide strike, although the price eased in the world's biggest consuming market following a drop overseas.
Schools, shops and government offices were shut in some states as protesters blocked road and rail traffic as part of a one-day nationwide strike against sweeping economic reforms announced by the government last week.
The most-traded gold contract for October delivery was down 0.52 percent at 31,850 rupees per 10 grams by 4:17 p.m. It had hit a record high of 32,421 rupees last week.
"Demand was weak. Jewellery shops were closed due to the strike. Some jewellers were buying from banks, but by and large buying was dull," said a Mumbai-based dealer with a state-run bank.
"If prices fall by another 700 or 800 rupees (per 10 grams), we can see significant improvement in buying."
Spot gold prices in the world market fell on Thursday as a stronger dollar and weaker oil and stock markets prompted some investors to cash in gains after the previous day's 6-1/2 month high.
The rupee, which determines the landed cost of the dollar-quoted yellow metal, eased on Thursday, restricting the downside in gold prices.
India celebrates Ganesh festival this week, which will be followed by Dussehra in October and Diwali in November. Buying gold during festivals is considered auspicious.
(Reporting by Rajendra Jadhav; Editing by Sunil Nair)
Updated Date: Sep 20, 2012 23:30 PM