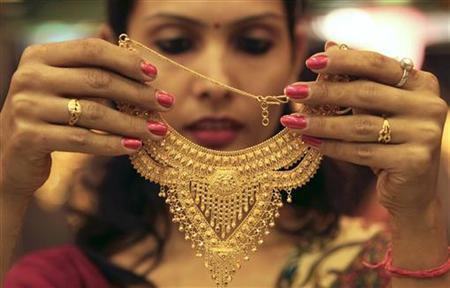 MUMBAI (Reuters) - Gold demand in India, the world's biggest buyer of the metal, moderated on Thursday as local prices rose chasing gains in the world market and on a weak rupee.
The actively traded gold contract for February delivery on Multi Commodity Exchange was 0.23 percent higher at 30,890 rupees per 10 grams as of 4.44 p.m.
"Demand is slightly weak compared with yesterday. Jewellers are cautious. Major festivals are over. They are waiting for price correction," said a Mumbai-based dealer with a bullion importing state-run bank.
The rupee, which fell on Thursday, plays an important role in determining the landed cost of the dollar-quoted yellow metal.
In the overseas market, gold edged back towards $1,670 an ounce on Thursday, recovering from this week's 3-1/2 month low as physical buyers returned to the market.
The wedding season in India will continue till early January and gold is an important gift item at marriages.
March silver contract was up 0.06 percent lower at 59,645 rupees per kg.
(Reporting by Rajendra Jadhav; Editing by G.Ram Mohan)
Updated Date: Dec 21, 2012 01:30 AM