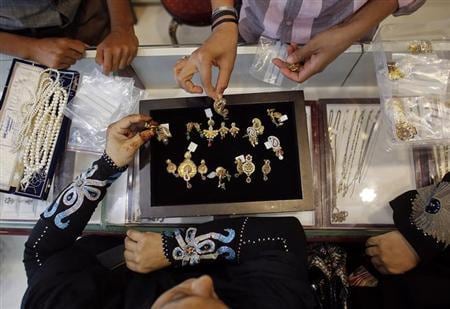 MUMBAI (Reuters) - Gold demand in India remained subdued on Thursday due to non-availability of the yellow metal, even as prices hit their highest level in nearly nine months.
* India may re-start imports by as early as next week or so after the central bank clarified a new rule that brought the flow of the precious metal into the world's top gold consumer to a standstill at the end of July.
* "It has been exactly a month since we last imported ... there are no stocks in the market," said Haresh Acharya, head of bullion desk, Parker Bullion.
* At 2:41 p.m., the actively traded contract for October delivery on the Multi Commodity Exchange (MCX) was 0.22 percent lower at 31,513 rupees per 10 grams, easing from a high of 31,595 rupees hit earlier in the day, a level last seen on November 29, 2012.
* In the overseas market, gold fell for a second session after minutes from a Federal Reserve policy meeting failed to ease fears the U.S. central bank would begin tapering its economic stimulus from next month.
* However, a weaker rupee limited the downside in prices. The rupee plays an important role in determining the landed cost of the dollar-denominated yellow metal.
* Silver contract for September delivery on the MCX was 0.18 percent lower at 51,351 rupees per kg.
* The following were the prices of gold and silver in rupees as of 1315 local time in the spot market, quoted by HDFC Bank:
Thursday Wednesday
========================================
Gold .999/10 grams 31,580 31,135
Silver .999/kg 54,240 53,450 (Reporting by Siddesh Mayenkar; Editing by Anand Basu)
Updated Date: Aug 23, 2013 05:45 AM